Submitting media (audio or video) in Canvas takes two steps: uploading a video to Panopto or recording a video using Panopto and embedding.
When you embed Panopto media in a reply to a discussion using the Panopto-embed button (

), all members of that course can access it!
Navigate to Discussions in your Canvas course. Click on the name of the discussion to which you are submitting media.

Then c

lick Reply.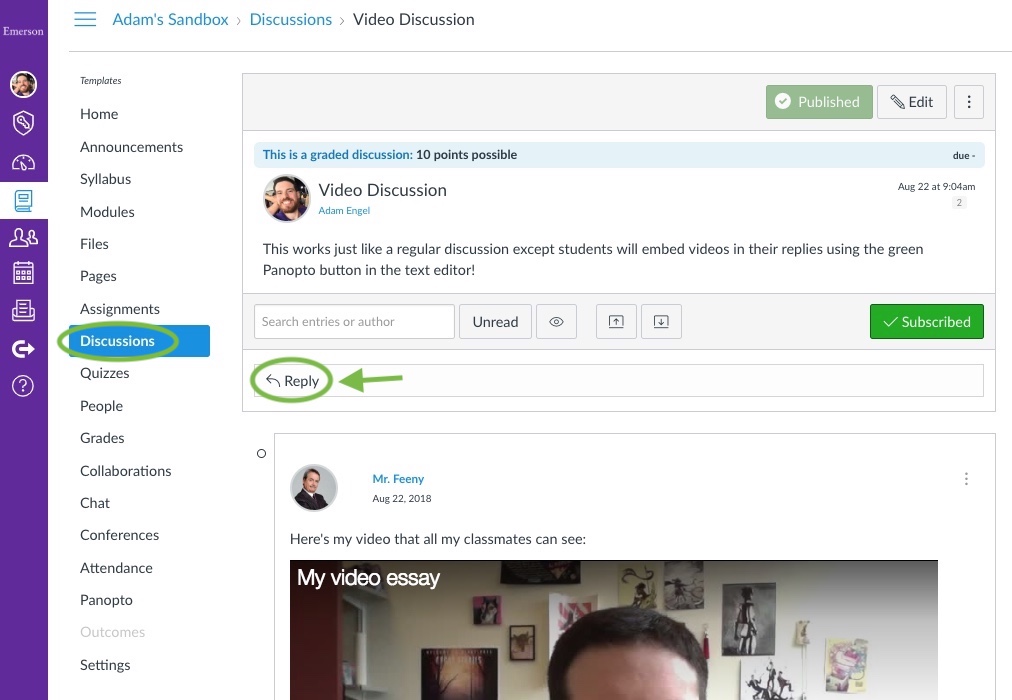 Click the green Panopto-embed button () above the text-entry box that appears. If you don't see the button, it may be hidden under the menu button. Click the three-dot button at far-right of the toolbar to reveal it.
Note
In order for the media to be automatically viewable by all other students in the course, you must use the embed button above the text-entry box. DO NOT use the embed code found in the media's sharing settings; DO NOT use the shareable link (unless you adjust the media's sharing settings first).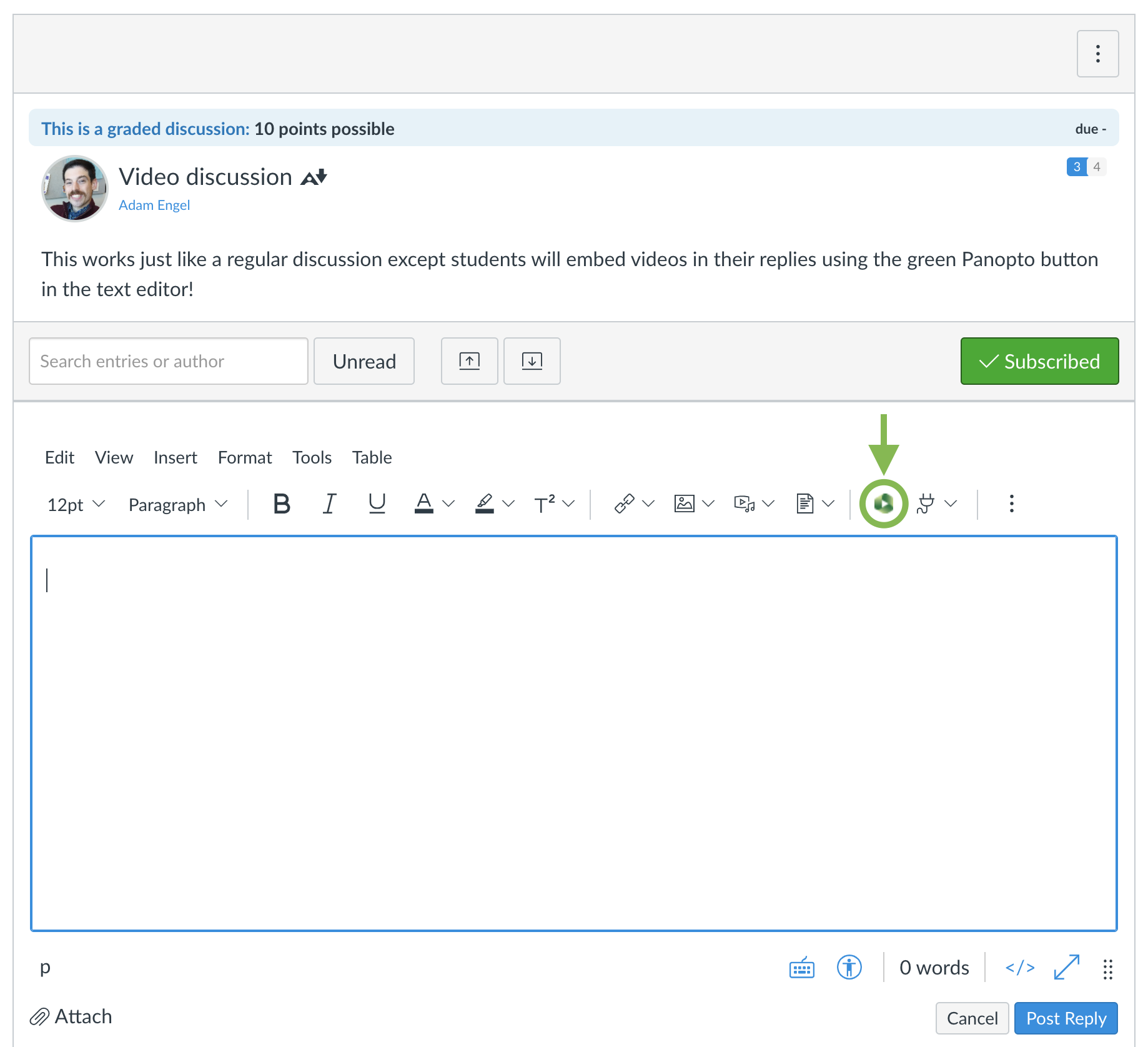 In the window that opens, select My Folder from the dropdown menu: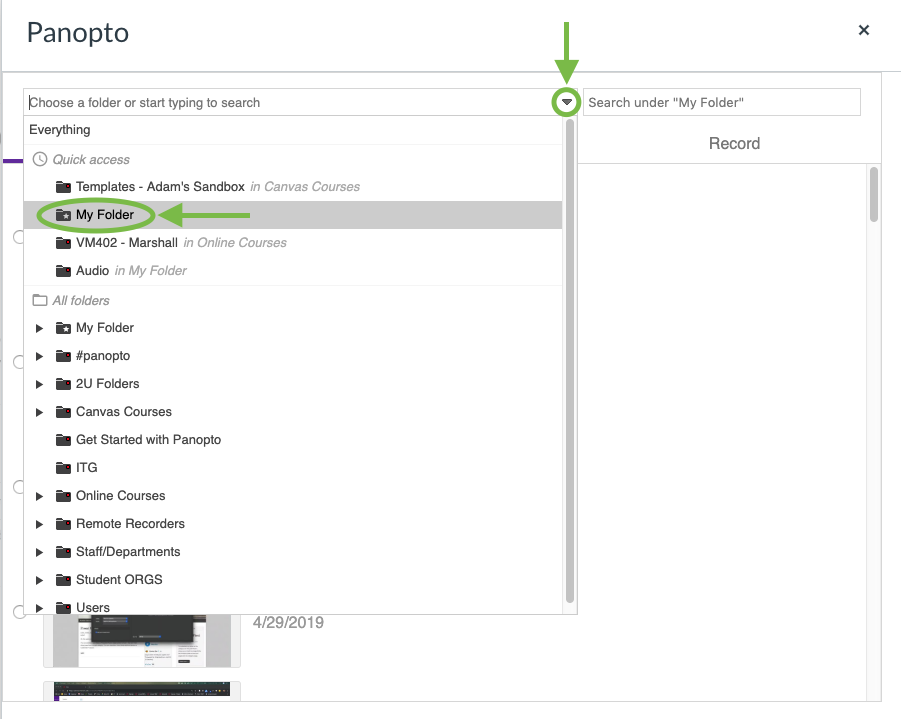 Click the Upload tab. Drag-and-drop your media into the designated area, or click "Choose video or audio files" to browse your computer. The media will upload.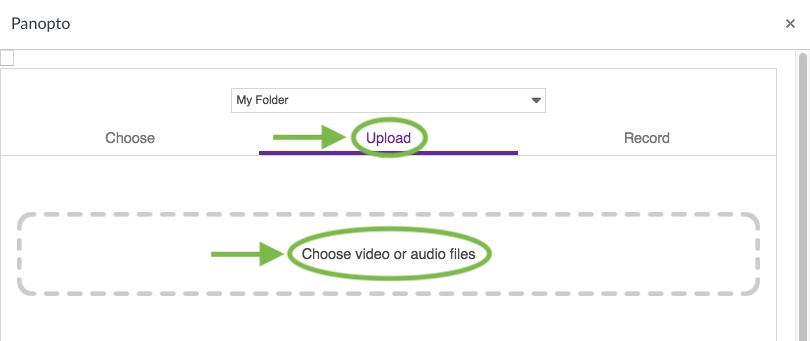 When the upload progress bar is replaced by the word "Processing," click the Insert button at bottom right.

Your media will appear inside the text-entry box. It will take a few minutes or more to become playable, depending on its size, but you don't need to wait for it.
When you're ready to submit, click the Post Reply button under the text-entry box to save.
You're done!
Note
If your video or audio file fails to upload, try

compressing your file for streaming

.

You may submit more than one type of item at a time to video/audio assignments. For example, if you need to submit both a Word document and a Panopto video to the same assignment, you can first embed your Word doc, then follow the steps above to embed and submit your Panopto video along with the already embedded Word doc.