If you wish to upload a video to Panopto for use on a departmental website (or other web pages), here's how.
Request a Folder
To begin, contact ITG@emerson.edu and ask us to create a departmental Panopto folder for storing your video(s). Let us know if you wish to give anyone else permission to upload to this folder.
OPTIONAL: After ITG creates your departmental folder, you can add members to it yourself. Access the folder and click the Share button at the top-right (it looks like two figures). Under Invite people, start typing a person's name. Click the desired name. Designate invitees as either those who Can create or Can view. Creators can upload to this folder and view videos in it, while Viewers can only view. When you're done adding people, click Save Changes.
Upload
Go to Panopto and log in with your Emerson credentials.

You can use the Browse button in the left-hand menu to navigate through your Panopto folders. Click Browse to expand the folder panel, then click a folder's name to view its contents. The folder ITG created for you should be in the "Staff/Departments" folder (you can expand this folder even though it will appear greyed-out). Find and click on it.

Once inside, click on Create and select Upload media.

It will prompt you to upload a video.

Once the video finishes uploading and begins processing, you may close the upload window.

Your video will appear in the Panopto folder that's open in your browser.
Share
Hover your mouse over the video and click Share.

A window with sharing settings will appear. If you want your video to be publicly viewable, click under "Who has access". On the dropdown menu, click Public on the web. Then click Save Changes.
Shareable Link or Embed Code
At the top of the sharing window, you'll find a shareable link. You can copy this link and share it with whomever you wish. Or, click Embed (to the right of Link). An embed code will appear. Copy it in its entirety, then paste it into the HTML editor of the desired webpage. After saving that page, your video should appear and be publicly viewable.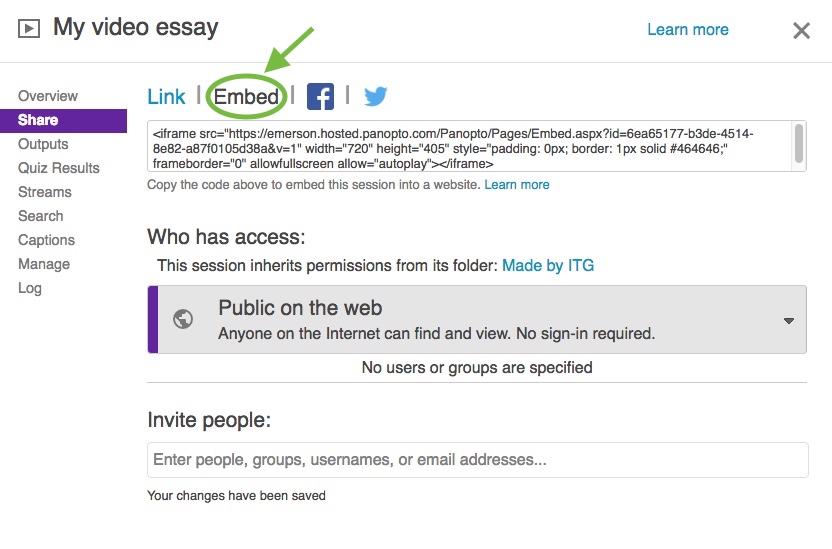 For further assistance, please contact ITG@emerson.edu.