The text and media editor you use when creating and editing content in Canvas is known as the Rich Content Editor (RCE). You use the RCE any time you edit a page, assignment, or discussion.
Watch this brief video tour to learn where all the tools are located:
Use the Panopto Button to Record, Upload, and Embed Videos
We don't recommend using the "Media" tool shown in the above video! Canvas has limited space to store large video files, and videos recorded using this media tool are difficult to re-use in other contexts.
Have no fear: the green Panopto embed button is still in the toolbar! You can see it in this screenshot: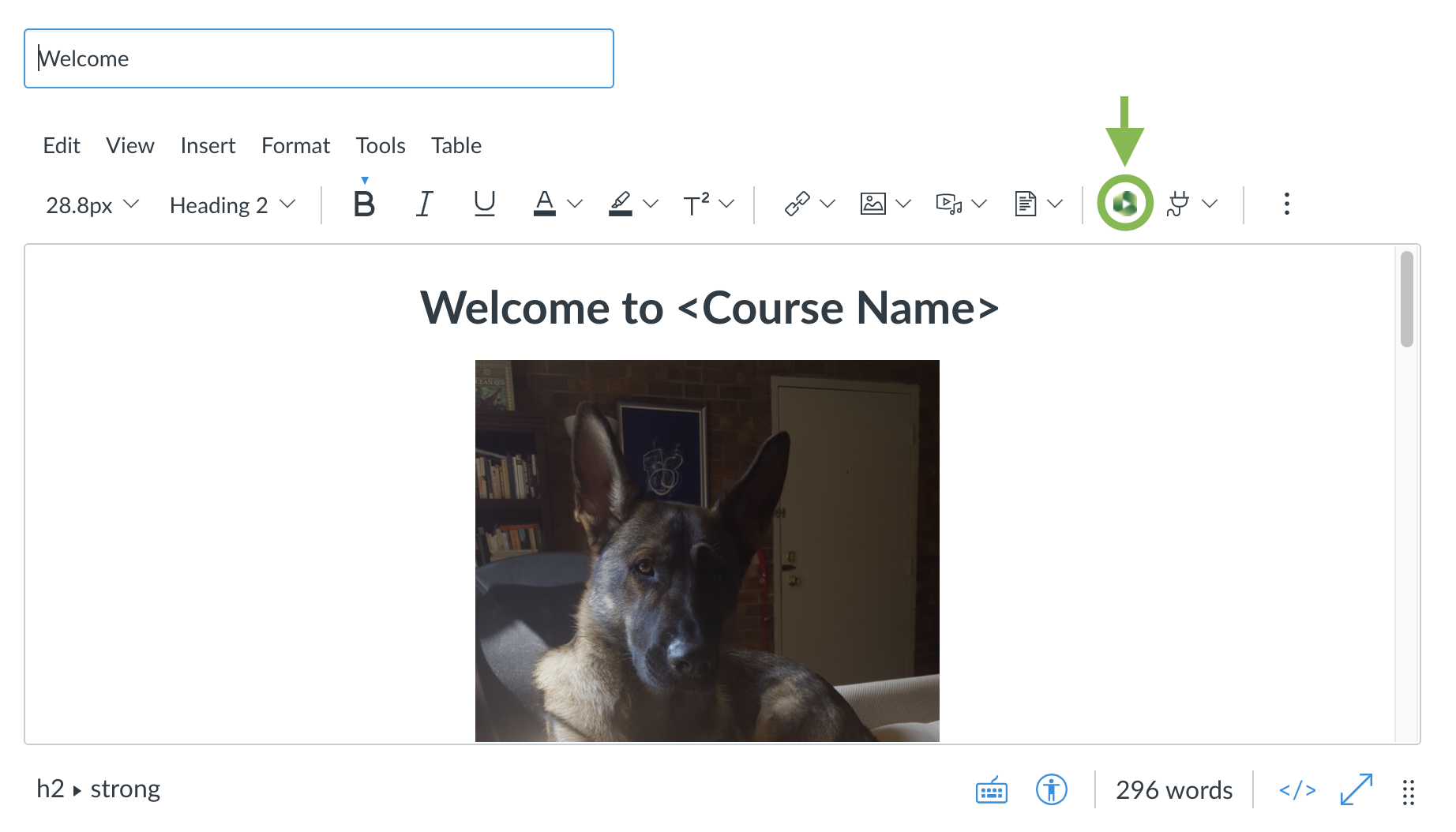 Use this Panopto button to record, upload, and/or embed original videos in your Canvas content. Panopto has unlimited storage. You can easily download your Panopto videos or re-use them in future courses. All students in your course will automatically be able to view any video you embed using this button, so no adjustment of sharing settings is necessary.
For more instructions on how to do this, see this guide: Embed a Panopto Video in Canvas.
Auto-Saving
The RCE has auto-saving to ensure you don't lose the edits you're working on. If you're editing content and leave the editor without saving, this prompt will appear when you return to the editor: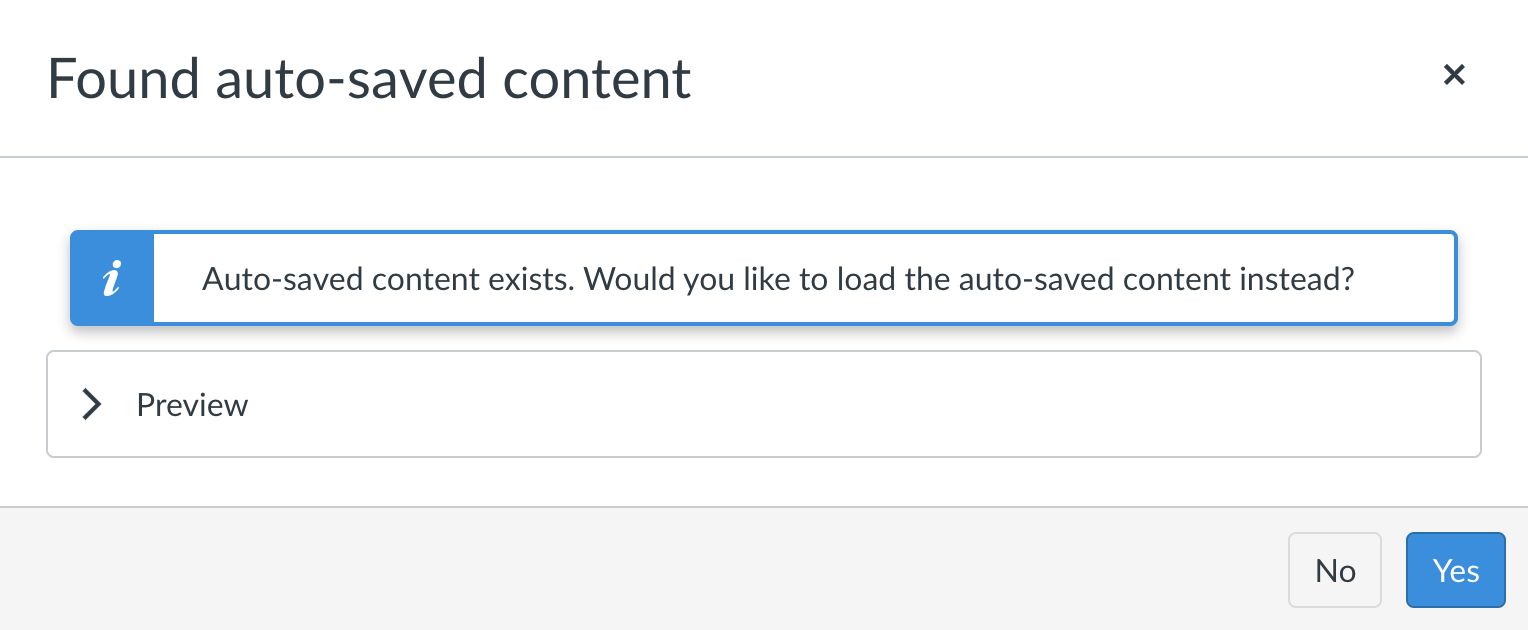 Click the right-facing arrow to preview the auto-saved version. Click Yes to resume editing where you left off, or No to return the content to the way it was when you last clicked Save in the editor.
Please note that you still need to manually save your edits by clicking the Save or Save & Publish button at the bottom of the editor in order for them to be implemented. Students will only see content that has been manually saved and published.
Watch this video for a demo of auto-saving in action:
External Links vs. Course Links
It's important to avoid creating links to content within your Canvas course (such as pages, assignments, or discussions) by copying-and-pasting their web addresses.
In the old RCE, the correct way to create course links was to use the "Links" tab at top right of the editor. In the current RCE, clicking the downward arrow to the right of the Link button will give you two options: External Links or Course Links: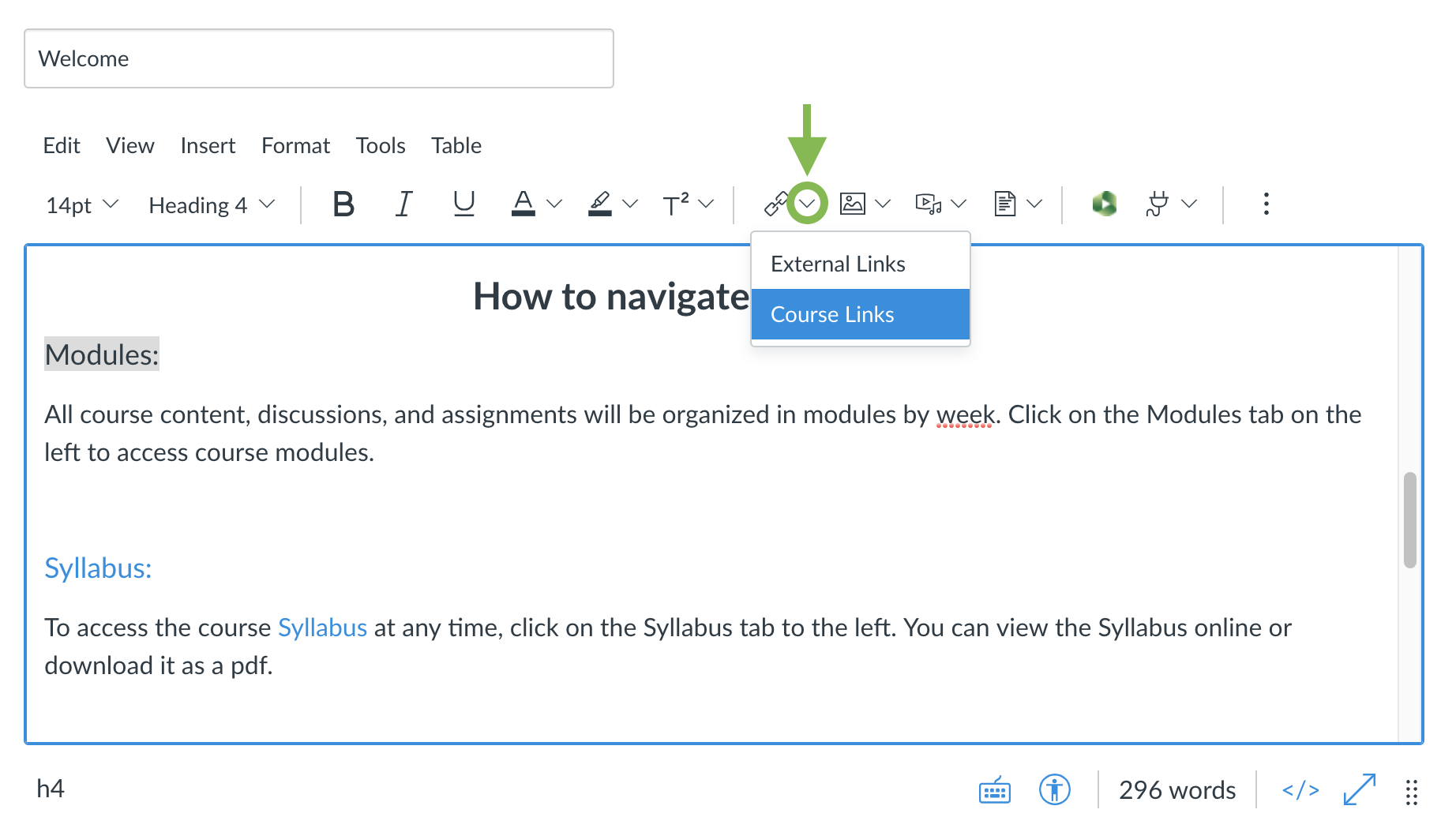 Select External Links to create a link to anything outside your Canvas course, such as a Wikipedia or WordPress page. After clicking External Links, copy-and-paste the address of the External Link into the "Link" field.
Note: If you linking to resources available through Iwasaki Library, it's best to use permalinks. If you have questions about this, ask a librarian!
Select Course Links to create a link to anything inside your Canvas course (except files), such as a page, assignment, or discussion. When you click Course Links, a right-hand panel will open that lets you browse all your course's content. Click on a category of content to expand it, then click on the item you wish to link to: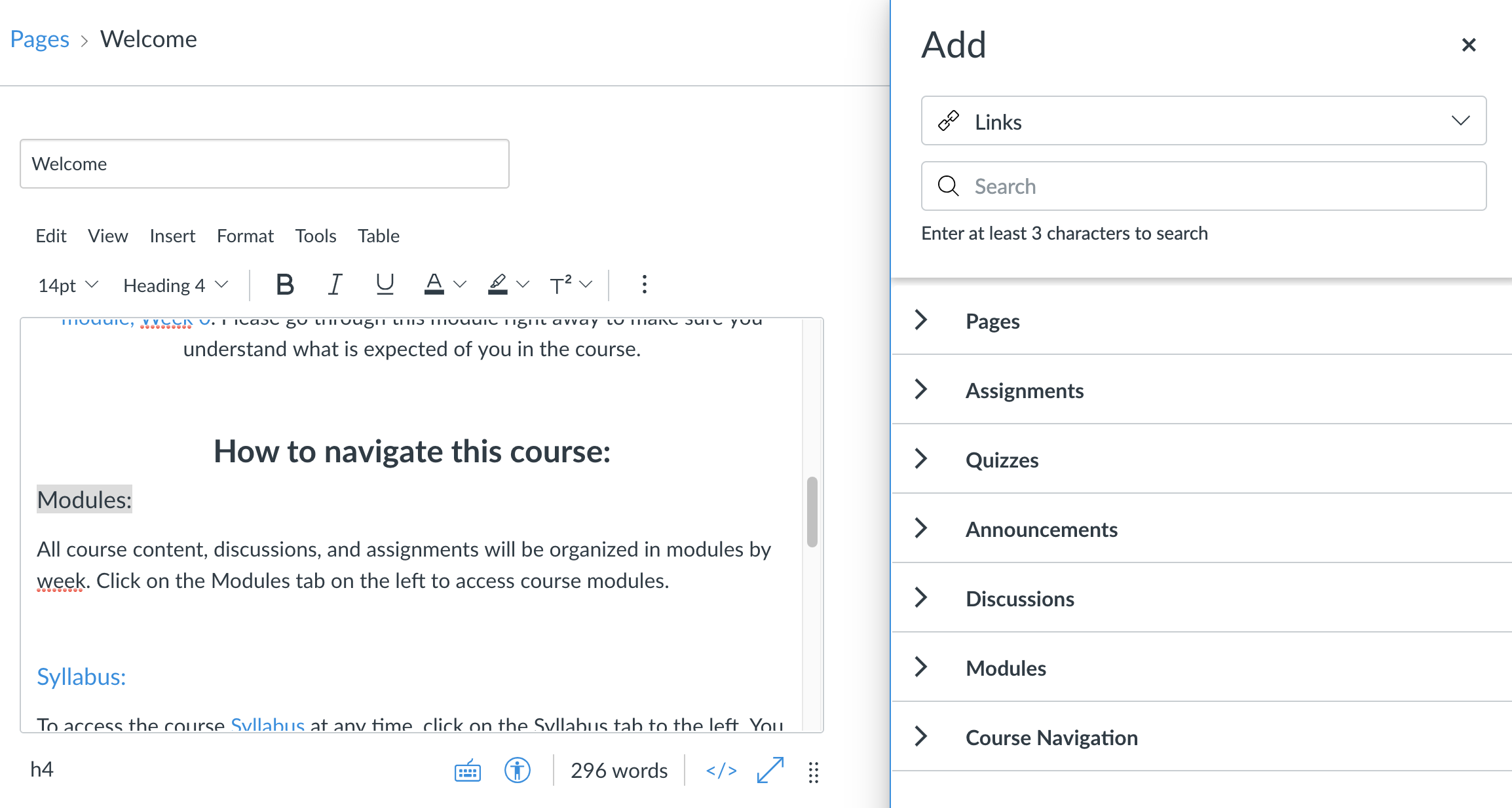 Using Course Links to link to course content ensures that when you import your content into future Canvas courses, the links will still work.
Uploading and Linking to Files
If you click the "Links" dropdown menu at the top of the "Add" panel in the screenshot above, you can switch from browsing your course content to browsing files you've uploaded (such as Word docs or PDFs), which you can also link to.
To upload new files, click the Upload Document button to the left of the Panopto button (it looks like a sheet of paper):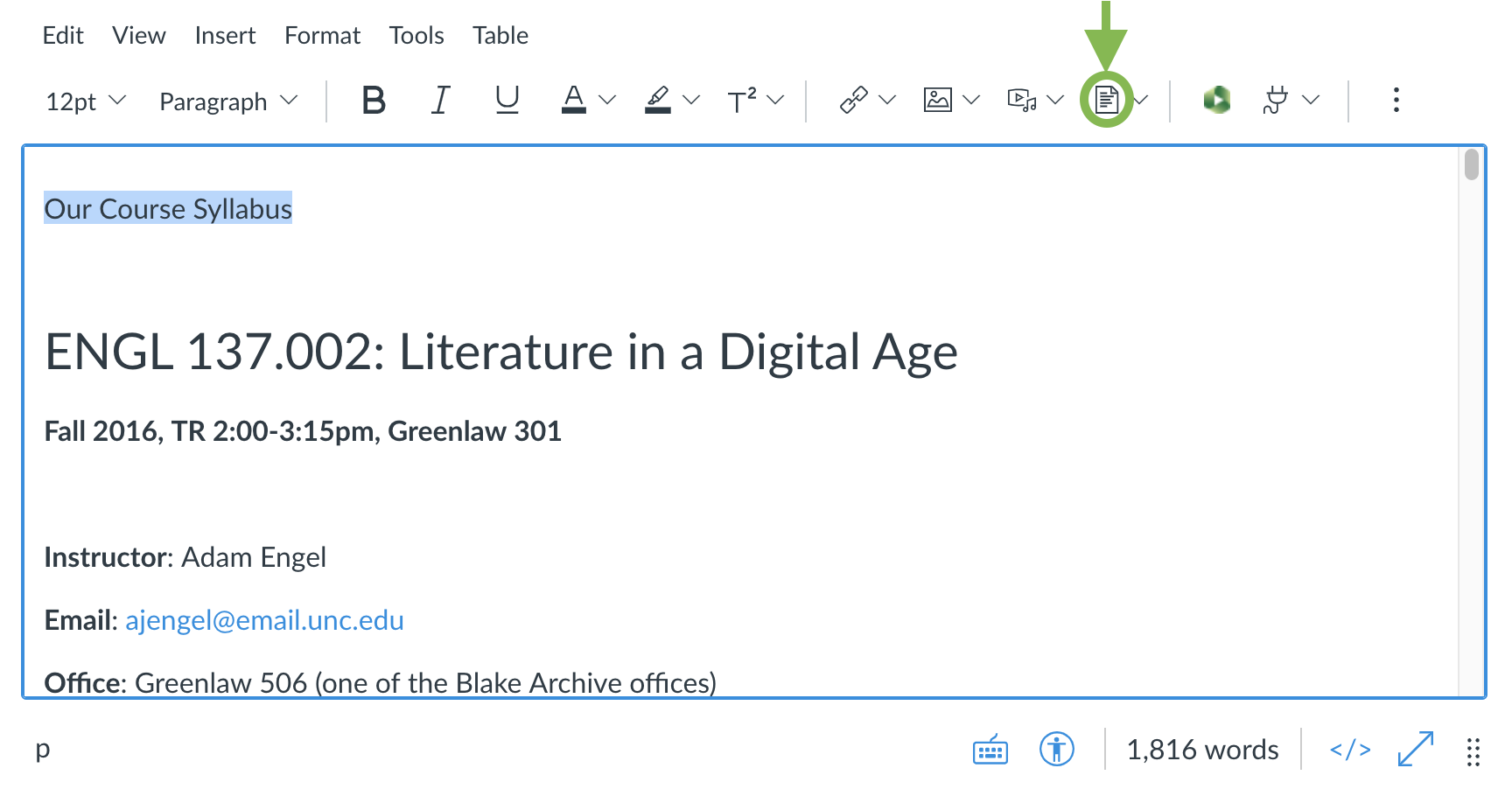 Clicking the down arrow to the right of the Upload Document button will let you select either Upload Document or Course Documents. Choose Course Documents to open a right-hand panel that lets you browse and create links to files you've already uploaded to this course.
Accessibility
Please use the Canvas Accessibility Checker to verify the accessibility of content that you have created with the Rich Content Editor. For detailed information, see Creating Accessible Canvas Content.
Need More Help?
ITG is happy to provide training on the new RCE! Please email ITG@emerson.edu to ask a question or set up a Zoom meeting with us.