To be accessible, videos must have closed captions available. Captions are text versions of a video's audio content synchronized with the video. "Closed" means the captions are not baked into the video: viewers can choose to turn them on or off and reposition them. Unlike subtitles, which only include dialogue, captions include non-speech elements such as speaker IDs and description of sound effects.
Though captioning is primarily intended for those who cannot hear the audio, it has also been found to help those who are not fluent in the language in which the audio is presented and those who prefer to study by listening. An Oregon State study across 15 public and private universities found that "more than half of students surveyed said captions help by improving comprehension." Captions provide long-term study aid for students, allowing them to search videos' contents and comprehend footage with unclear audio.
The following is a tutorial on finding captioned videos and adding captions to your existing videos:
Human-Generated vs. Automatic Captions
When including videos in your course, it's best to find a version that has human-generated closed captions rather than computer-generated closed captions. On YouTube, if a video has captions, a "CC" button will appear in its bottom-right toolbar. Click on it: the primary language appears in the video's top-left corner. If "auto-generated" also appears, the captions are automatic. If it doesn't, the captions are human-generated: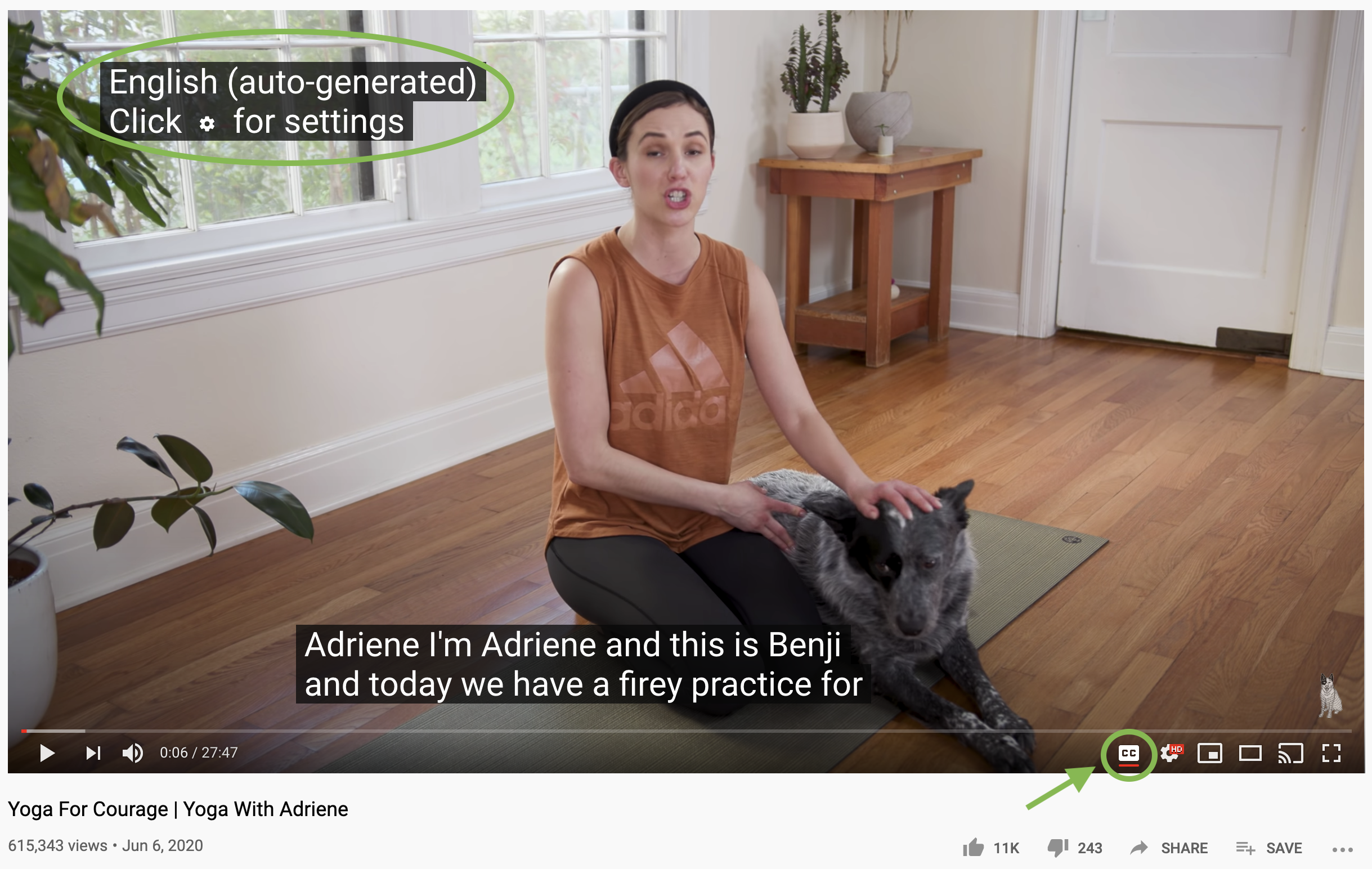 Human-generated captions are preferable because computers often misrecognize words, resulting in less accurate captions. However, automatic captions are better than none at all.
Automatic Captioning Options
Panopto
If you create or upload a video in Panopto, Panopto will automatically generate closed captions. While they are a helpful start, these captions are not initially ADA compliant because they have an accuracy rate of only about 60%. Fortunately, Panopto makes it easy to correct its automatic captions. This guide explains how to edit Panopto captions for accuracy:
After correcting your captions, there are several ways to make your video available:
YouTube
If you own a video that is hosted on YouTube, YouTube will automatically generate closed captions. This guide explains how to edit them for accuracy:
After correcting your captions, you can make your video available by sharing it or embedding it.
Zoom
When you record a Zoom meeting and save it to the Cloud, Zoom will automatically generate closed captions. If your video is for long-term use, it is recommended that you replace Zoom's automatic captions with more accurate captions that include punctuation, speaker names, etc. You may provide corrected captions yourself or hire a vendor to provide human-generated captions.
To provide more accurate captions yourself, first download the recording. To do so:
Go to zoom.emerson.edu and click Sign In (use your Emerson account).
Click Recordings in the left-hand menu.
Click on the recording you would like to download.
Hover your mouse over the first file listed, then click the download button:


After downloading the video, you have two options:
After correcting your captions, you can make your video available by uploading it to either Panopto or YouTube and then sharing or embedding it (see the Panopto and YouTube sections of this guide).
Manual Captioning Options
You can manually add captions to videos uploaded to either Panopto or YouTube:
You can also hire a vendor for manual captioning. Here are some suggestions:
If you wish to send a Panopto video out to a vendor for human-generated captions, you will first need to delete its automatic captions. To do so, go to the video's Settings, choose Captions from the left-hand menu, click Default under "Available Captions" to expand it, then click Delete Captions.
Live Captioning and Transcription Options
Live captioning and transcription is available for all Zoom meetings hosted by Emerson users. Live transcriptions can either be generated automatically (by a computer) or manually entered by a human transcriber. See this guide for more information and instructions:
Which Videos Should Have Captions?
Ideally, all videos in your course should have some form of captioning. However, this isn't always possible. Here are some rules of thumb.
Videos that DO need captions:
If videos convey significant information, and you are selecting them ahead of time and/or plan to re-use them, they should always have captions.
Videos created to be public or to be viewed by a large population.
Videos that MAY NOT need captions:
If videos are just-in-time and restricted to a small group of people who have not requested captions (i. e. a quick video in Canvas addressing a current event, a synchronous video conferencing session, or video comments on a student's submission, all of which won't be re-used in future semesters), it is acceptable for them not to have captions, but you should still let students know that they can contact SAS if they need an accommodation.
If videos are student coursework and no other students in the class have requested captions, it is acceptable for them not to have captions. However, you should encourage your students to caption their videos using the tools mentioned above. You should also let students know that they can contact SAS if they need an accommodation.
Remember that many students will not self-report needing an accommodation, so
the more often you can provide captioned videos, the better
. If you want to learn more, check out this article on the
use of closed captioning in pedagogy
.
Learn More