Students cannot access a course in Canvas until it's published. Only teachers can see this course until it is published. When the course is unpublished, you will see the Unpublished icon highlighted in

red

on the top right corner of the course's Home page.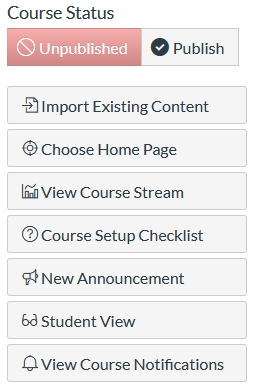 To publish your course you have to click the Publish button on the top right corner of your screen. Then the Published icon will be highlighted in

green

.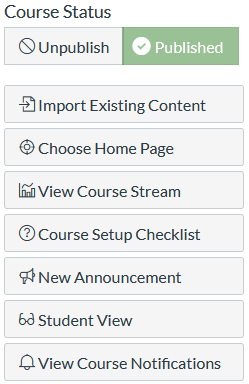 You will also see a message pop-up on the top of the page, confirming that your course has been published.

Enrolled students will be able to participate in your course and see its content one week before the semester starts. After the semester ends, your course will be in a read-only state for students.
Please remember that different elements in your course (Assignments, Discussions, Pages, etc.) will also need to be published when they are ready to be seen. Otherwise, they will be invisible to students.
Whenever you see a circle icon with a slash, it means unpublished.   

A

green

icon with the check mark means published.        

You can toggle those back and forth.
A quick way to make sure everything you want visible is published is go into Student View.