Request a blog! Set up a training!
Need a blog for curricular use? 
Go to support.emerson.edu
In the top right hand corner, click "Submit a Request" and fill out the form. (You can request a training at the same time, just mention it in the description!)
Under "What is this request about?" - Choose Course Support > New Blog Request
Log into WordPress
Go to word.emerson.edu and log in with your Emerson username and password.
On the top navigation bar, click on My Sites (1) to see the sites you currently belong to and to select the site you would like to go to from the dropdown list.
The name of the site that you are currently editing appears next to the My Sites link in the black bar above (2).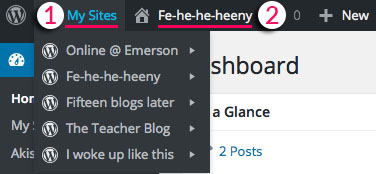 Creating Posts
A WordPress blog is made up of a series of posts. Begin posting to your site by creating and publishing posts:
Select the site you would like to post to from the My Sites drop-down menu.
If you are already on your site, you can easily get to the Dashboard by clicking the name of your site in the top navigation bar (1) and selecting it from the drop-down menu (2):

Create a new post by clicking on the Posts tab (1) and choosing Add New (2) from the left hand menu bar: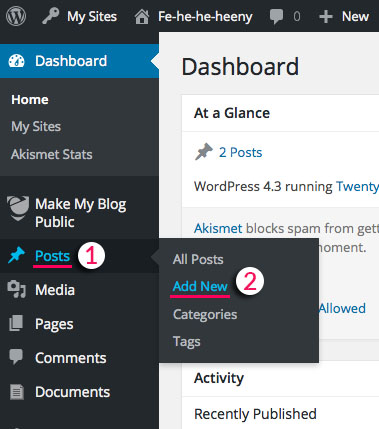 Alternately, you can create a new post by clicking on + New (1) from the top navigation bar, and selecting Post (2) from the dropdown menu: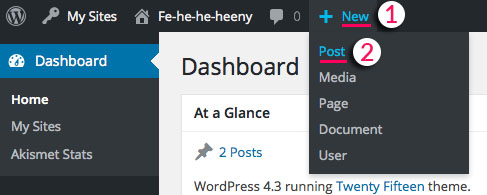 Within the Post
Click on the Visual Editor to use a rich text editor tool (1). If you are familiar with HTML code, you can utlize the Text editor. (2).
Enter a title for your post (3), add text (4), and/or also add media (5) to your post: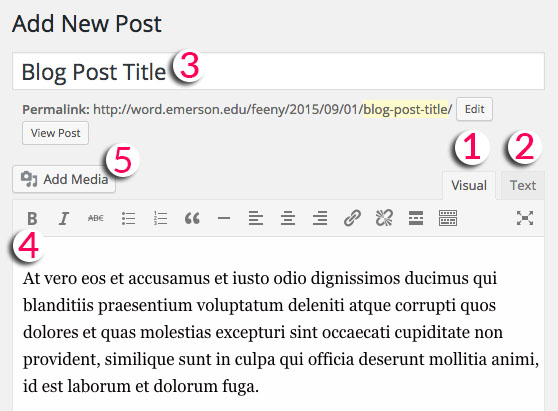 When you are ready to publish your post, click Publish: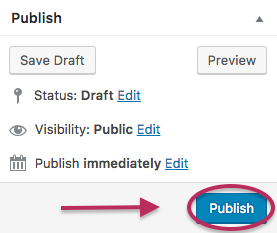 Creating Pages
Pages are used to present static information about yourself or your site. Creating individual pages in WordPress is similar to writing a post:
Click Add New in the Pages menu.
Enter in a title for your page, text, and any media.
When your page is ready, click Publish.