Emerson College labs and print kiosks provide users with access to black & white and color laser printers and photo inkjet printers. Here is information to help you take full advantage of these resources.
---
How to Print in the Labs
You can print to lab and kiosk printers from one of our workstations or from your own computer.
When you choose File > Print at a lab or kiosk workstation, you will be able to select from the printers available at that location. Be sure to pick the correct type of printer for your needs, as prices vary.
When you have finished making selections in the Print dialog, click Print or OK to send your job to the Print Release Station near the printer. Swipe your Emerson ID (or building access or ECcash card, where applicable) at this station and use the touch screen to select your print job. Then press Print to send the job to the printer, where it will print out momentarily.
Please note:
If you would like to use your own paper, labels, transparencies, etcetera in the laser printers, please visit the IT Help Desk or see the lab assistant.
You must have your Emerson ID when you print. This is the only method accepted for print payment.
Always log out of the Print Release Station when you're done. You will be charged for any prints made from the station while you are logged in.
If you need any assistance while printing, see the lab assistant or call the IT Help Desk at ext. 8080.
---
Printing Costs
Each semester, $10.00 of printing credit is added to your Emerson ID. ECcash is used to pay for any additional printing. Professional Studies and Special Programs students will have $10.00 of printing credit attached to their building access cards.
Printing costs vary by the type of printer used and the size of the paper being printed on. Double-sided (or duplex) laser prints cost the same as single-sided prints.
Paper size
Black & white laser
Color laser
letter-size sheet (8.5" x 11")
$0.05
$0.35
tabloid-size sheet (11" x 17")*
*available in APL, CAD, WPL, & XML
$0.30
$1.05
---
Double-Sided Printing (Duplexing)
Double-sided printing (duplexing) is available on all lab and kiosk grayscale laser printers and the color laser printers in the APL, WPL, and XML. Duplexing saves both paper and money, as each double-sided sheet still costs the same as a single-sided sheet.
To print in duplex, you must set it in the print dialog. See below for detailed instructions on how to do this from a Macintosh or Windows computer.
Duplexing from Macintosh OS X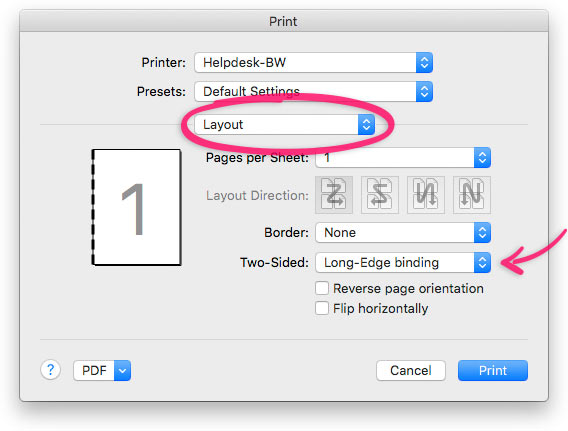 Choose File > Print and select a printer from the Printer drop-down menu.
If necessary, click the Show Details button to see additional drop-down menus.
Select Layout from the third drop-down menu.
Set the Two-Sided drop-down to Long-Edge binding or Short-Edge binding. The binding edge indicates which way you intend the page to be flipped over. Long-edge binding is the more frequently used setting.
Click Print when you are finished changing the rest of your settings.
Duplexing from Windows
Choose File >Print and select the printer you wish to use from the Name drop-down menu.
Click on the button or link for Properties, Printer Properties, or Preferences near the printer selection menu.
In the Properties window that appears, select the Finishing tab.
Underneath Document Options, check Print on both sides.
Click OK to return to the main print dialog, and click OK again to print once you have finished changing the rest of your settings.
---
Printing from Your Own Computer or Mobile Device
Thanks to the Pharos Print mobile app and My Print Center webpage, you can print directly from your mobile device or computer, without having to log onto a shared campus computer first! Check out our mobile printing guide for instructions.