Google Workspace is a set of online educational tools made by Google and hosted at Emerson, providing opportunities for collaboration and productivity.
Note: your personal Gmail and Google Workspace @ Emerson are two separate things! You access Google Workspace with your Emerson account. For multiple accounts, see our guide Managing More More than One Google Account for assistance.
Here are some ways you can use Google Workspace to work, share, and publish with ease.
Ways to use
Google Workspace
Get feedback on a big project with an online survey or make a fun quiz for your friends.
Collaborate on your next group project by editing shared documents online.
Put your portfolio online for internship applications, or just to show off your work.
Make a web-based sign-up sheet for your organization or event.
---
Google Drive
Google Workspace features Google Drive, which allows you to create word-processing, spreadsheet, and presentation documents online. Drive will store your documents online, so you can access and work on them from anywhere.
Even though these tools are web-based, they are nearly as feature-rich and as versatile as "conventional" software. Documents can include embedded images, drawings, links, charts, and specialized charts called "gadgets." You can create online quizzes and surveys using the forms tool, which automatically records responses in a spreadsheet.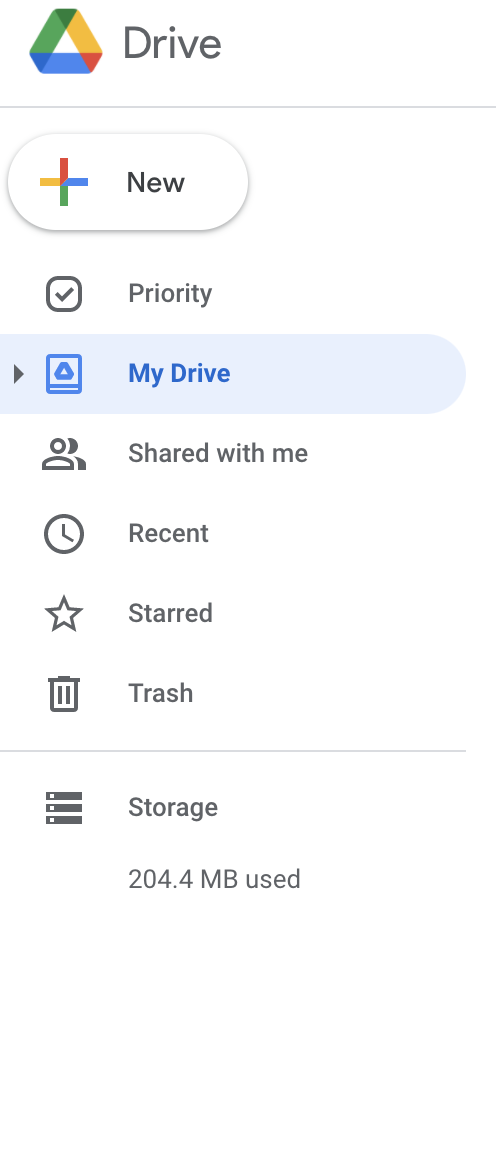 Editing in Google Drive documents is similar to using Microsoft Office, except that some familiar commands might be found under different menus. Office documents can be uploaded and converted to Google Drive documents, and they can be downloaded in many file formats, including Word, Excel, and PowerPoint.
To begin using Drive, go to drive.emerson.edu and log in with your Emerson username and password.
Up to 200 users can view or collaborate on a single Google Drive document, and up to 10 people (50 for a spreadsheet) can view or edit a document at the same time. A built-in chat tool lets you communicate while doing so. A commenting feature allows users to discuss and track changes on a document, and a revision history feature lets you access older versions of a document.
Since documents are available through an online editor, you'll never have to worry about distributing the latest versions to group members, nor will you have to worry about everyone having compatible software on their computers.
To invite others to view or edit a document click Share at the top-right of the document editing window. Drive will prompt you to enter the email addresses of the people you want to invite and to designate whether you want them the ability to edit or to view the document. Invitations need not be limited to Emerson email addresses.
---
Google Sites
Google Workspace grants access to Google Sites, a website building tool that can be used to create portfolio sites, group or class websites, blogs, and more—without having to learn HTML. Google documents, spreadsheets, presentations, forms, gadgets, photos, and slideshows can be embedded in your pages. To get started with Sites, go to sites.emerson.edu and log in with your Emerson username and password.
When you log in to Google Sites, click the Create button, and select in new Sites from the dropdown menu. We strongly advise against selecting classic mode, since Google is discontinuing support for it. After making this selection, you'll be taken to the editing interface for the home page of your new site.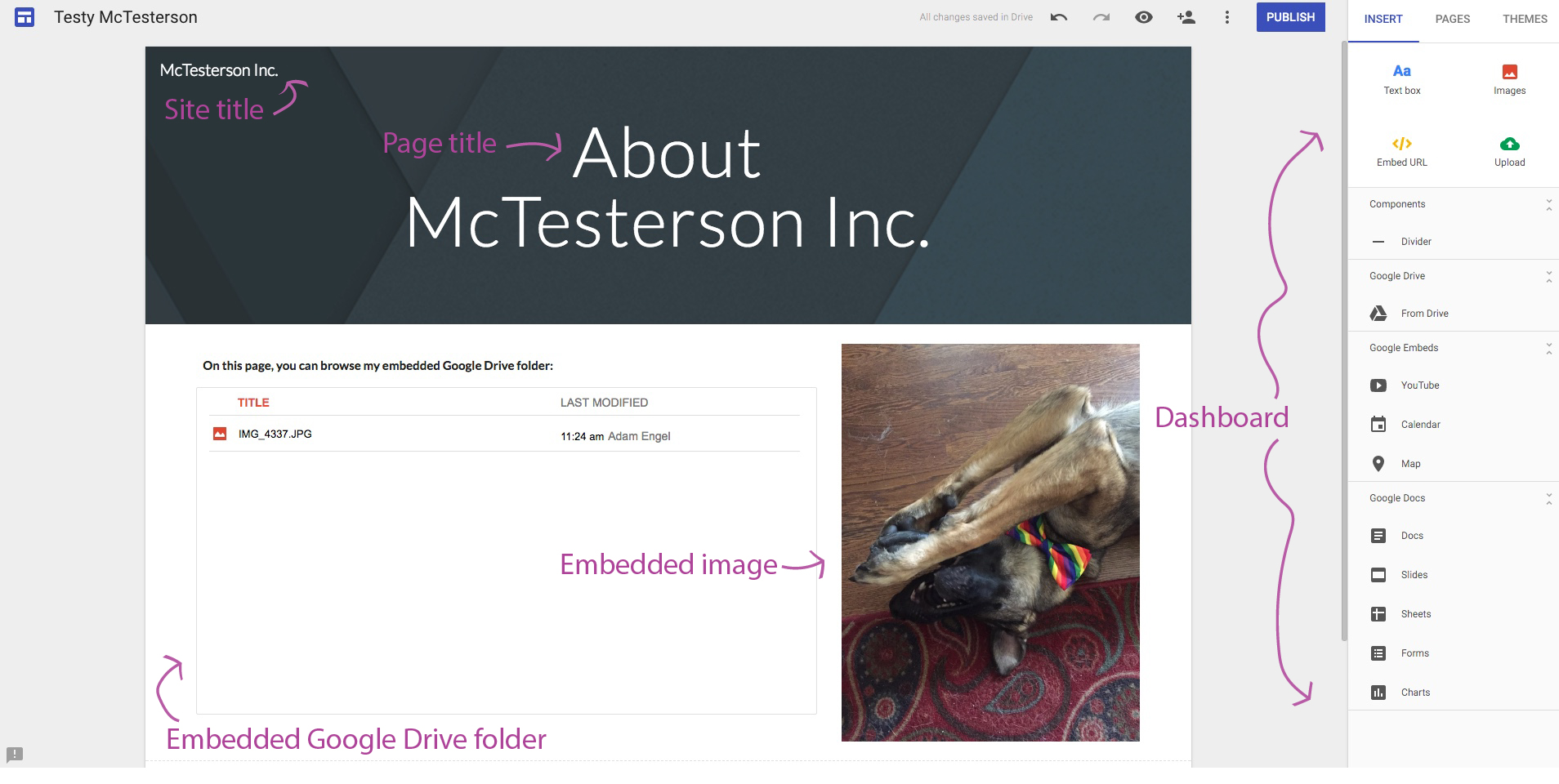 Replace the text in the boxes at the top left and top center to name your site and give your page a title. Hover your mouse over the header (where the titles are) to see options for changing the header type and image. Double-click anywhere on your page to add text, links, or files. Use the dashboard at the right to embed dividers, folders, or files from your Google Drive and media from other services such as YouTube, Google Docs, and Google Calendar. You can either embed a folder in which users can browse (see an example on the left side of the screenshot) or you can embed a file such as an image directly onto the page (see the right side). Simply drag and drop content areas to change their positions. As you drag a block of content around your page, a blue bar will appear to show you where the content will move when you release the mouse.
The top of the right-hand dashboard has three tabs: Insert, Pages, and Themes. Insert provides your embed options. Pages allow you to create new pages and subpages, which are automatically linked to your home page. Themes allow you to choose a new visual scheme for your site.
You can preview your site by clicking the eyeball icon at the top right. To the right of the Preview button is Add editors, which lets you add collaborators to your site or share its link as if it were a Google doc or sheet (note: after creation, your Google site will appear in your Drive and be stored there like any other file). When you're ready to make your site public, click PUBLISH. You'll be given several options before confirming publication: you can choose your site's address (you can add whatever you'd like after https://sites.google.com/emerson.edu/), and you can choose whether the site should be visible to the public or only to those logged in with Emerson Accounts. You can change this later.
Collaboration in Google Sites not only lets groups build sites together, but it creates opportunities for groups to use websites as tools for organizing larger, more complicated projects. For example, a group working on a film could use a Google Site to discuss the project and post important announcements as well as keep their production schedule, contact list, script, breakdown, shot list, releases, etcetera in a central, web-accessible place. Access can be restricted so only group members can view and edit the site. In addition, Google Sites provides a useful way to contextualize shared Google Drive folders and files; rather than merely sharing a link to a folder, you can package that folder in an instructive, professional-looking website.
Google Sites is an easy way to make a website to share your work with the world. However, sometimes you only want to share one thing, such as a document or spreadsheet. This is possible with Google Drive: once you've finished editing a document with Google Drive, choose Publish to the web... from the File menu to make it visible to the world.
Availability Reminder
Keep in mind that, after graduating, you may lose access to all Emerson accounts, including the Emerson Google+ Account. To learn more, review the Emerson Account Deactivation Policy.
Learn more
Google offers a host of online documentation, tours, and videos about Google Workspace. Learn how to get the most out of Google Workspace, read the support section, or integrate Google Workspace at Emerson with Canvas.