As a full-time Emerson College student, you have access to download and use the complete Adobe Creative Cloud for FREE on your personal devices.
Applications that you can access for free include:
Photoshop
Premiere Pro
Lightroom
Illustrator
InDesign
Audition
After Effects
Dreamweaver
…and more!
To download your FREE software, follow the instructions below.
You will continue to have free access to the software as long as you are enrolled full-time at Emerson. If you leave or graduate, the license will expire.
Sign in to Adobe.com
Open a web browser (Google Chrome, Firefox, etc.) and visit adobe.com.
Click Sign In at the top right of the page. Enter your Emerson email address in the email field, then select the password field.
Choose Enterprise ID (company or school account) if you are presented with a choice.
You will be directed to the Duo authentication page to complete sign-in. Enter your Emerson username and password to sign in to your Adobe account.
Download and install Creative Cloud Apps
In the top right corner, click the menu icon that looks like a grid of 9 boxes.
Under the Web Apps & Services section, select Creative Cloud.
Click the blue button that says Download Apps, and then click the blue Download button under Creative Cloud.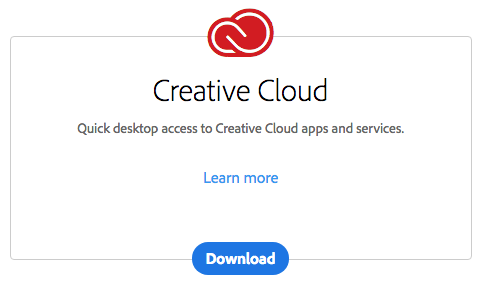 4. Find the installer that you downloaded in your Downloads folder and double-click to install.
About personal Adobe and Enterprise IDs
Note: If you only see a Free Trial Option when downloading and installing, this is because Adobe applications on your computer may still be signed in with your free personal Adobe ID (not your Enterprise ID). To fix this, open an Adobe application and select Help > Sign Out. Now sign back in with your Emerson email address, selecting Enterprise ID when prompted.
It is possible to have a free personal Adobe ID that uses your Emerson email address in addition to the Enterprise ID provided through this program. For more information on how this works, see Adobe's guide on ID types.
About Creative Cloud usage in the Labs and Classrooms
Until the end of the Spring 2019 semester, all computer labs on campus will be operating on the following versions of the Creative Cloud software:
After Effects: v.15.1.2
Audition: v.11.1.0
Illustrator: v.22.1.0
InDesign: v.13.1.0.76
Photoshop: v.19.1.5
Prelude: v.7.1.1
Premiere: v.12.1.2
Media Encoder: v.12.1.2.69
If you have any questions about software versions or compatibility issues in the computer labs or classrooms, please reach out to helpdesk@emerson.edu.