Select users in the Robbins Center, Center for Health and Wellness, and Counseling Center are automatically granted access to a Zoom subaccount (separate from the primary Emerson instance for Zoom users) that grants access to the product Zoom for Healthcare. With this product, clinicians can conduct telehealth sessions with improved encryption and safeguards, listed on the HIPAA Compliance Guide.
To have this access, users must be members of one of the following security groups:
Center For Health & Wellness (managed by the Director of Health and Wellness)
Counseling Center Group (managed by the Director of the Counseling Center)
Robbins Center Zoom (managed by the Director of Clinical Programs, CSD)
Healing & Advocacy Zoom (managed by the Director/Counselor of the Healing & Advocacy Collective)
Logging In
Once added, please follow these steps to redeem your Zoom for Healthcare account:
Visit emerson.zoom.us in a web browser. Click Sign In and log into Duo with your Emerson username and password.
If you've been added to the correct group, you will be presented with this. Click Switch to the New Account.

Select I Acknowledge and Switch.

Zoom will send you an invitation email. Please wait up to a half hour for this to be delivered. Once delivered, the email will look like this:

Click the link in the email and click I Acknowledge and Switch one more time!

Your Zoom Account Switch Was Successful! Click Sign In Now.
Note that if you click Account Profile, you're now under the zoom_hipaa account.
If you already had Zoom installed on your computer, the next time you launch it (while connected to the Internet), it will use your new account!
Revoking Access
If you are ever removed from the security groups at the top of the guide, you will automatically be routed back to this: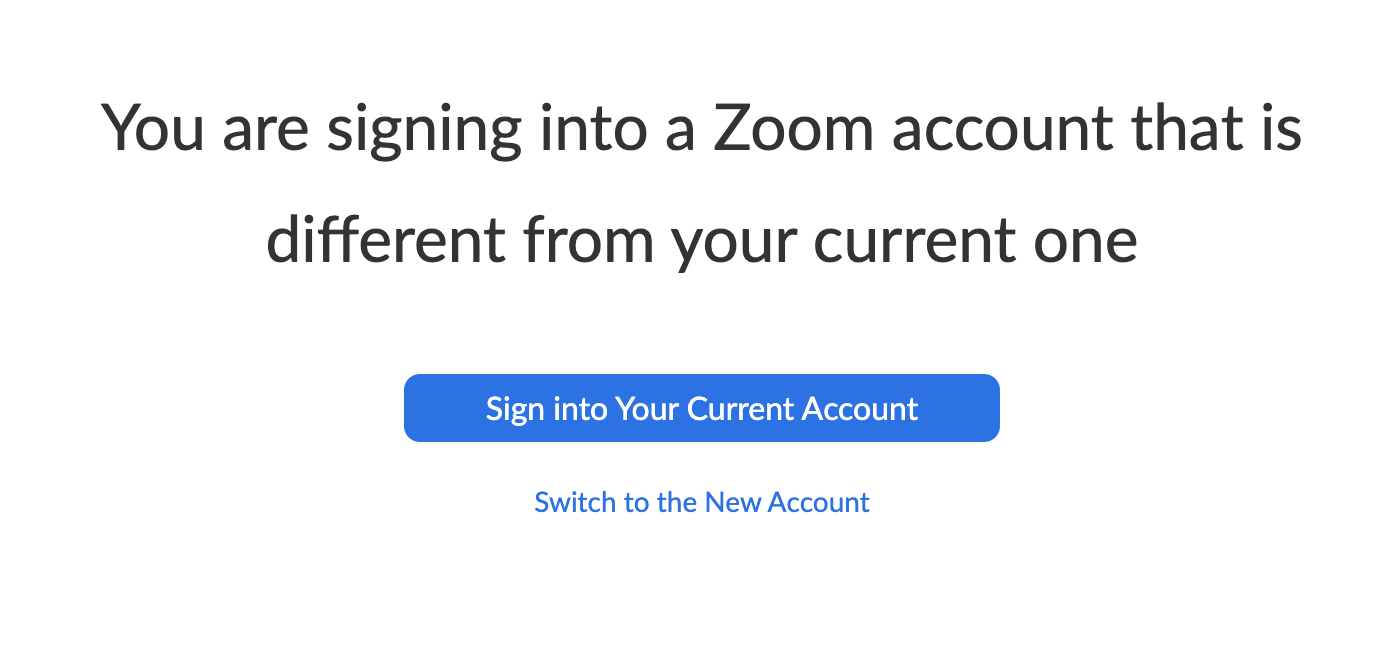 If you try to get back into your Zoom for Healthcare account by clicking Sign into Your Current Account, you will not have an option to sign in with your Emerson Duo account. The only way to log into Zoom with your Emerson account is via Switch to the New Account, which will convert you back to a standard Zoom Pro user.
Special Note for Speech@Emerson Faculty
In certain cases, some individuals have Zoom accounts under both the Emerson College and S@E licenses to support their varied work at the college. To ensure that these accounts are kept separate and that you are logging into the correct account:
Know which username is associated with each license: You will likely be logging into your Speech@Emerson account with your firstname.lastname account, and into your Emerson Zoom account with your Emerson firstname.lastname or firstname_lastname account. Be sure to verify which username is tied to which account.
Be aware of redirects: Once you log into a Zoom account on the web, you will be continually redirected to that instance, regardless of what Zoom website you go to. For example, if you log in at the regular zoom.us website, you will be redirected to that site, even when you navigate to the Emerson Zoom website at emerson.zoom.us. It is best to either use a Chrome Incognito Window or a separate internet browser to log into your other Zoom account to avoid this issue.