Apps are a set of online educational tools made by Google and hosted at Emerson, providing opportunities for collaboration and productivity.
Please note: your personal Gmail and Google Apps @ Emerson are two separate things! You access Google Apps with your ECnet account at google.emerson.edu. More information about Managing Google Accounts here.
Here are some ways you can use Google Apps to work, share, and publish with ease.
Ways to Use Google Apps
Get feedback on a big project with an online survey or make a fun quiz for your friends.
Collaborate on your next group project by editing shared documents online.
Make a club site to announce upcoming events and post photos and stories from past events.
Put your portfolio online for internship applications, or just to show off your work.
Make a web-based sign-up sheet for your organization or event.
Hangout in a real-time group chat or video call to discuss ideas outside the classroom.
Faculty: make a site to post your syllabus, blog, and recommended links with just a few clicks. Contact the Instructional Technology Group for assistance with using Apps for teaching and learning.
---
Get Started
To get started with Google Apps, go to http://google.emerson.edu and click the link to Sign in through Emerson College.
Enter your Emerson account username and password and click Login.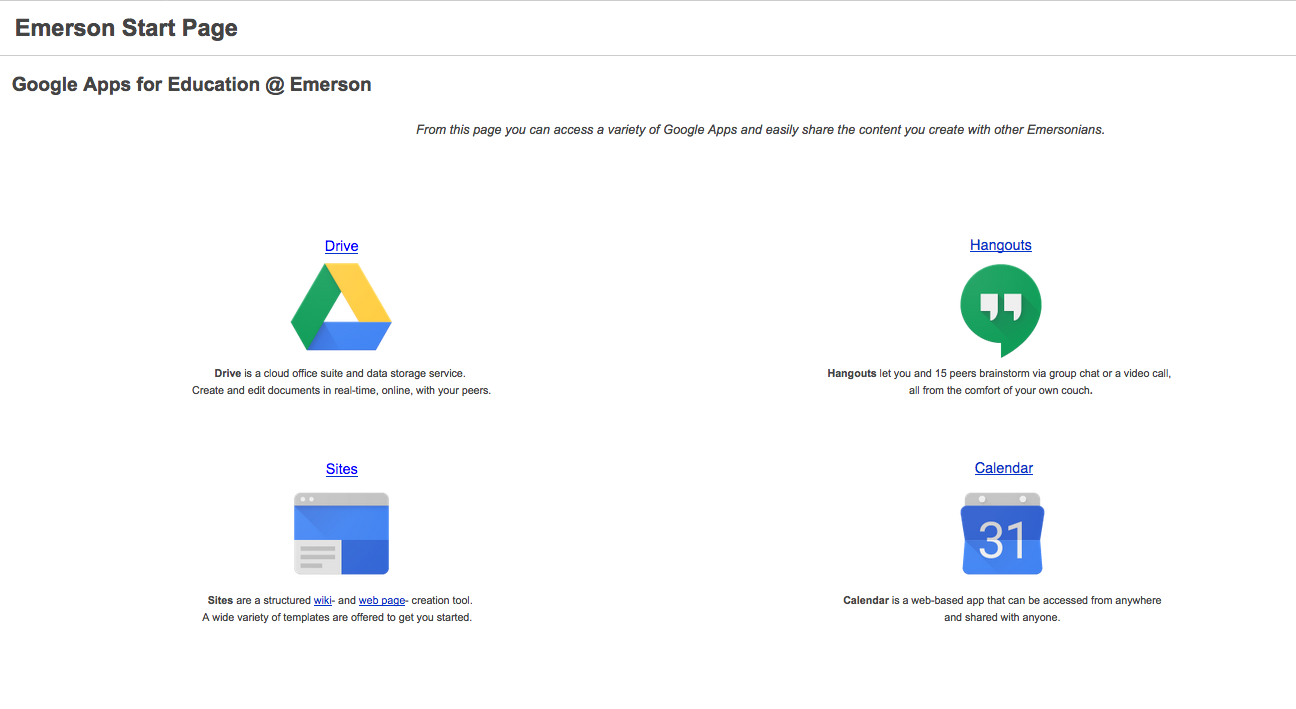 ---
Google Drive 
Google Apps features Google Drive, which allows you to create word-processing, spreadsheet, and presentation documents online. Because documents on Drive are stored and accessed online, you can access them from anywhere.
Even though these tools are web-based, they are nearly as feature-rich and as versatile as "conventional" software. Documents can include embedded images, drawings, links, charts, and specialized charts called "gadgets." You can create online quizzes and surveys using the forms tool, which automatically records responses in a spreadsheet.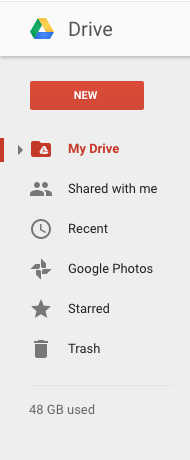 Editing in Google Drive documents is similar to using Microsoft Office, except that some familiar commands might be found under different menus. Office documents can be uploaded and converted to Google Drive documents, and they can be downloaded in many file formats, including Word, Excel, and PowerPoint.
To begin using Drive, click on the Drive link on the Emerson Start Page, or navigate directly to http://docs.google.com/a/emerson.edu/ and log in with your Emerson username and password.
Up to 200 users can view or collaborate on a single Google Drive document; up to 10 people (50 for a spreadsheet) can view or edit a document at the same time. A built-in chat tool lets you communicate while doing so. A commenting feature allows users to discuss and track changes on a document, and a revision history feature lets you access older versions of a document.
Because documents are available through an online editor, you'll never have to worry about distributing the latest versions to group members, nor will you have to worry about everyone having compatible software on their computers.
To invite others to view or edit a document click the Share button at the top-right of the document editing window. You'll be prompted to enter the email addresses of the people you want to invite, and to designate whether you want them to be able to edit or simply view the document. Invitations need not be limited to Emerson email addresses
Google Sites
Google Apps also gives you access to Sites, a website building tool that can be used to create portfolio sites, group or class websites, blogs, and more—without having to learn HTML. Google documents, spreadsheets, presentations, forms, gadgets, photos, and Picasa slideshows can be embedded in your pages. To get started with Sites, go to http://sites.google.com/a/emerson.edu/ and log in with your Emerson username and password.
When you log in to Google Sites, click the Create button and you'll be taken to a form with simple steps to get your site started. Here you will give your site a name and address, and choose a template and theme. You can also set basic collaboration options and choose whether to make the site visible to the public.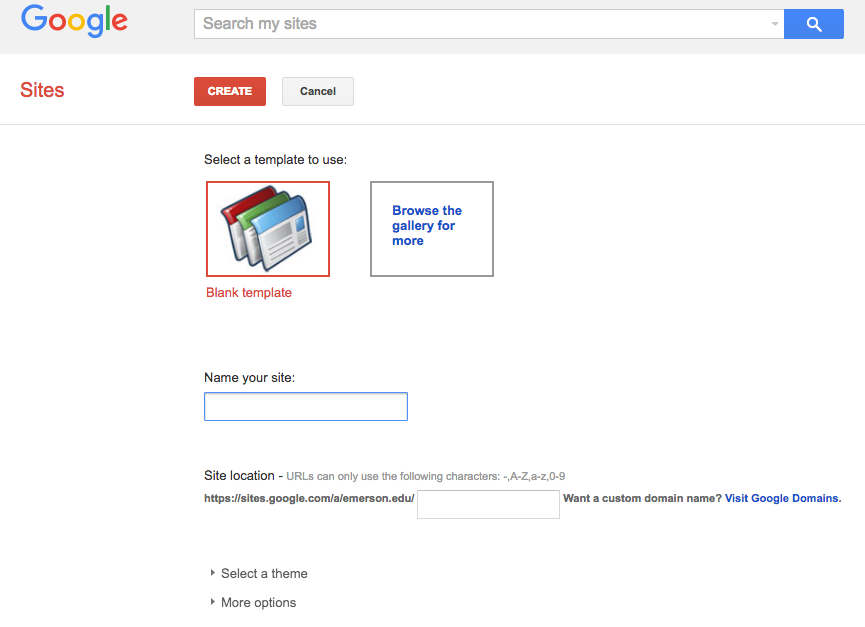 Google Sites also features collaboration options, some of which you can set on the site creation page. However, for more fine-tuned collaboration settings, go to More actions > Share this site while editing your site. From here, you can send out invitations for others to be viewers, collaborators, or even owners of the site. (Site owners can send invitations and make major site-wide edits in addition to the same page-level edits that collaborators can make.) You can also make the site viewable or even editable by everyone at Emerson College without having to send out invitations.
Collaboration in Google Sites not only lets groups build sites together, but it creates opportunities for groups to use websites as tools for organizing larger, more complicated projects. For example, a group working on a film could use a Google Site to discuss the project and post important announcements as well as keep their production schedule, contact list, script, breakdown, shot list, releases, etc. in a central, web-accessible place. Access can be restricted so only group members can view and edit the site.
Google Sites is an easy way to make a website to share your work with the world. However, sometimes you only want to share one thing, such as a document or spreadsheet. This is possible with Google Drive: once you've finished editing a document with Google Drive, choose Publish to the web... from the File menu to make it visible to the world.
Hangouts
Hangouts is a set of video conferencing and group chat tools within Google Apps at Emerson College. You can hangout with up to 15 users in a video call via any device with a webcam or up to 100 in a group chat, .

For best results, use Chrome and follow these steps:
Go to Google Apps @ Emerson and sign-in.
Click on the "Hangouts" icon.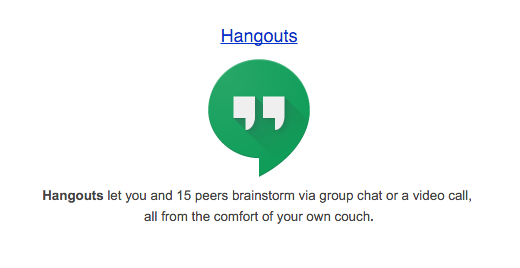 Click on the "Start a Video Hangout" in the lower right of the window.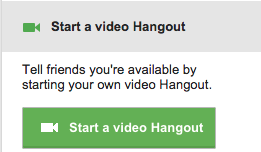 Allow your webcam and microphone to be used by Chrome.
Add the individuals you'd like to chat with via their Emerson email addresses.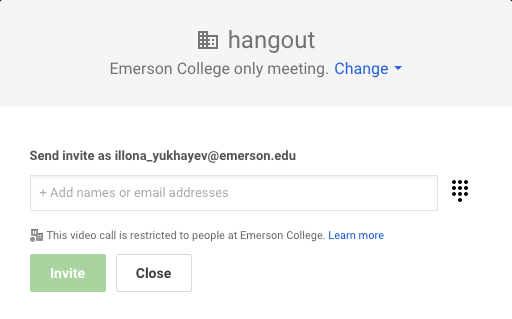 ---
Availability Reminder
Keep in mind, that after graduating, you will lose access to all Emerson accounts after six months, including the Emerson Google+ Account. To learn more, review the Emerson Account Deactivation Policy
---
Learn More
Google offers a host of online documentation, tours, and videos about Google Apps. Learn how to get the most out of Google Apps, read the support section, or integrate Google Apps at Emerson with Canvas.
If you need help with GoogleApps at Emerson here is a list of what's supported:
Supported:
Google Docs/Drive

Google Sites

Google Maps
Best Effort:
Google+

Google Hangouts

Google Calendar
Not Supported: