NOTE: Windows XP is not allowed to connect to wireless. Windows XP is no longer supported by Microsoft, and it is considered a security risk to continue running.
Getting connected to wireless is an easy process that we'll guide you through here.
Windows 8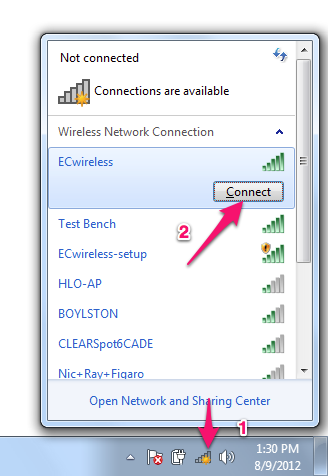 1. Click on the Wireless icon in the system tray to view your list of Available Wireless Networks. From that list, click on eduroam and then click Connect.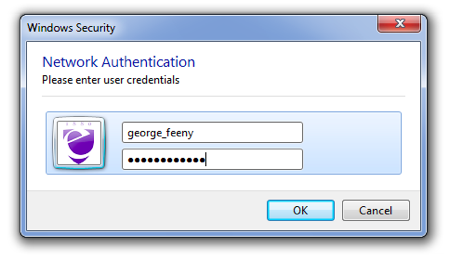 2. Enter your Emerson username and password in the next box that appears, and then click OK.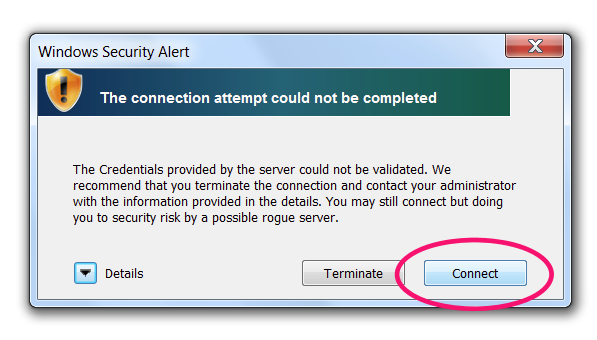 3. You'll probably see this ominous sounding warning message. This is nothing to worry about so click Connect to continue. You'll see the Wireless icon in the system tray change to a warning sign. After another moment, it'll change again to full, regular reception bars and you're online!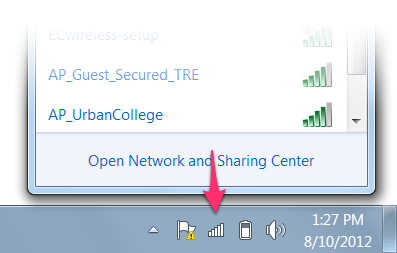 In future, your computer should connect automatically to eduroam, and you shouldn't have to do anything until you change your password. Just be patient as the connection is established.

Windows 8.1
Windows 8.1 is Microsoft's newest version of its operating system, and will likely be found on recently bought PC desktops and laptops. Connecting to eduroam is super easy with Windows 8.1, and is very similar to the way it worked in Windows 7, but with an updated appearance. The information found in this guide will also work with Windows 8.
If you have any trouble connecting to eduroam with any computer, please stop by the Help Desk with your laptop or give us a call at 617-824-8080, and we'll help you get connected!
1. Click on the wireless icon in the system tray to show a list of available networks.
2. Choose eduroam and then click Connect.
3. Enter your ECnet username and password, and click OK. A somewhat confusing message will appear. Just ignore it and choose Connect!
Congratulations! You are now connected to Emerson's wireless network! You will now connect automatically whenever you are on campus.