Click on the WiFi icon in the menu bar and then select eduroam.

You will be presented with a login prompt. Enter your Emerson username (including @emerson.edu) and password and click Join. It will go through several stages as it attempts to connect. Be patient!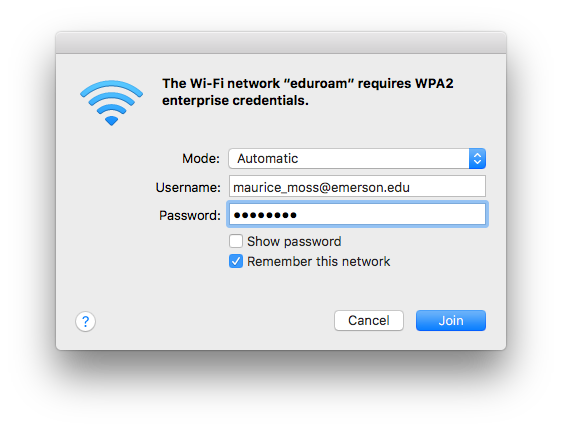 After a few moments, you should be presented with the dialog box with our authentication server, clearpass.emerson.edu. This check prevents your Mac from sending your username and password to an unknown server.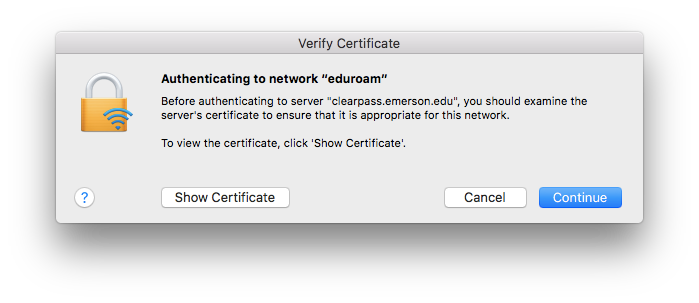 This is the Emerson College certificate, which you need to accept in order to proceed. Click on Continue to trust the certificate.
You might be prompted to enter your computer's password. This is not your Emerson password! It is the password you use to sign in to your personal computer.
After a few moments, you will be successfully connected to eduroam!
Having trouble reconnecting?
Sometimes, Mac OS users will struggle to reconnect because they connected in the past with old credentials or on an older network that we've retired. Here's a comprehensive way to wipe the slate clean and start over:
Click the Apple in the top left and go to System Preferences.
Go to Network and highlight WiFi on the left (you might have to click the lock in the bottom left to unlock all these settings).
Go to Advanced in the lower right.
In the list of networks under the WiFi tab, find Eduroam, and Emerson Guest and delete each of them by clicking the Minus (-) icon.
Click OK, and then click Apply at the Network dialog.
Click the magnifying glass in the top right and search for Keychain and open Keychain.
In the search box, type emerson. Click the top most entry, hold shift, and click the bottom most entry. Right (or two-finger) click and click Delete items.
Search for eduroam and do the same (delete any items).
At the top of your screen, click the Airport (WiFi) icon and toggle WiFi off. Wait a few seconds, then toggle it back on. Choose Eduroam from the dropdown.
For the username, MAKE SURE you use your full Emerson email address as the username. Put in your Emerson password. When prompted to trust the certificate, trust it, and if given the option, expand the dialog and choose Always trust.
Wait a few seconds and you should be on!