Submitting video in Canvas takes two main steps: upload and embed.
When you embed a Panopto video in a submission to an assignment using the Panopto-embed button (

), only the instructor can view the video.
1. Navigate to Assignments in your Canvas course. Click on the name of the assignment to which you are submitting video.
Then, click Submit Assignment at top right:
2. Click the green Panopto-embed button (

) above the text-entry box that appears. If you don't see a text-entry box, notify your professor.
You MUST use the embed button above the text-entry box; DO NOT use the embed code found in the video's sharing settings; DO NOT use the shareable link.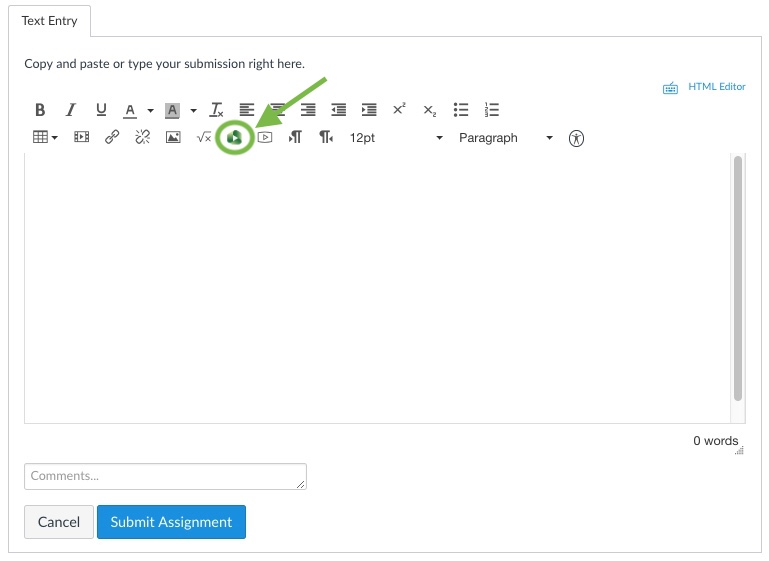 3. In the window that opens, select My Folder from the dropdown menu.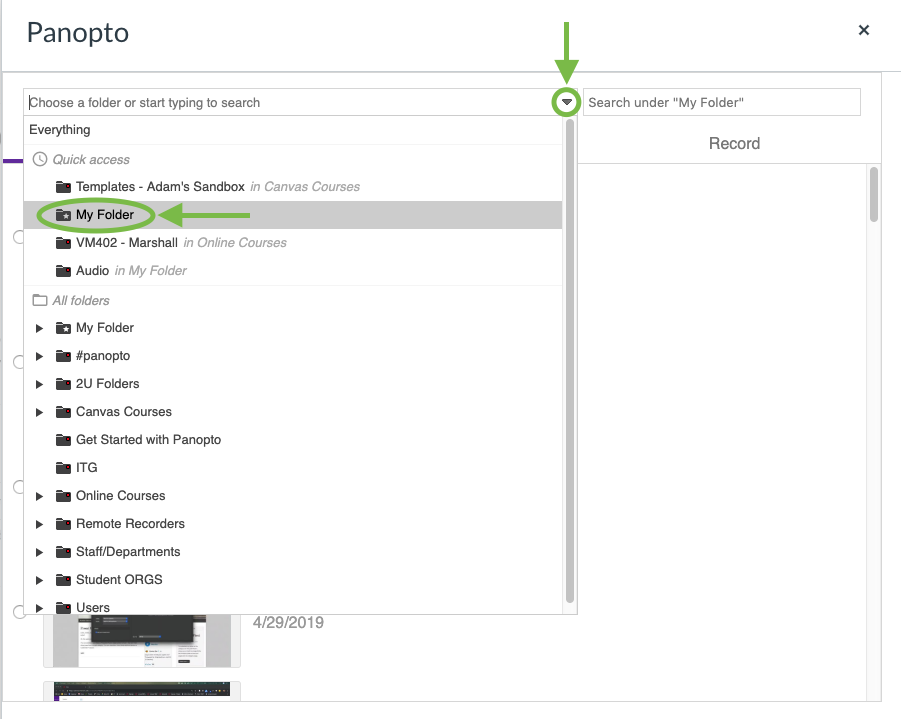 4. Click the Upload tab. Drag-and-drop your video into the designated area, or click "Choose video or audio files" to browse your computer. The video will upload.
NOTE: If you've already uploaded your video to My Folder, find and select it under the Choose tab.
NOTE: If you haven't yet recorded your video, you can also do so here: click the Record tab to open or download the free Panopto recorder app (see guides to recording for Windows and Mac).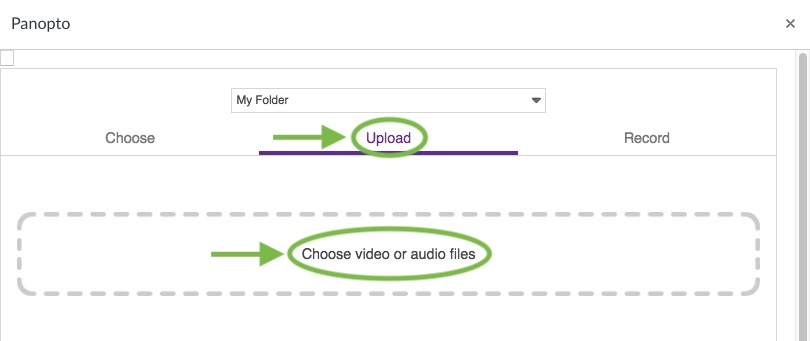 5. When the upload progress bar is replaced by the word "Processing," click the Insert button at bottom right. Your video will appear inside the text-entry box. It will take a few minutes or more to become playable, depending on its size, but you don't need to wait for it.
When you're ready to submit, click the Submit Assignment button under the text-entry box to save.
You're done!
NOTE: Your video must be in H.264 format and compressed for streaming.
NOTE: You can only submit one type of item at a time to assignments. If you need to submit both a Word document and video to the same assignment, you can paste the link to your video (found at the top of the video's Sharing Settings) into the word document you're submitting, and clearly label it for your instructor. Be sure to change the Sharing Settings on your video so that "Anyone at your organization with the link" can view.