If your submission is only for your instructor...
If your submission is to be shared with the class...
If your submission is to be shared only with your group mates...
Follow the instructions under "If your submission is only for your instructor." In addition to your instructor, add each of your group mates. Then continue following the instructions to embed your video in your submission to the group assignment or discussion.
---
If your submission is only for your instructor:
To upload:
1. Access Panopto through Canvas by clicking on Panopto in your course menu, or by going directly to panopto.emerson.edu.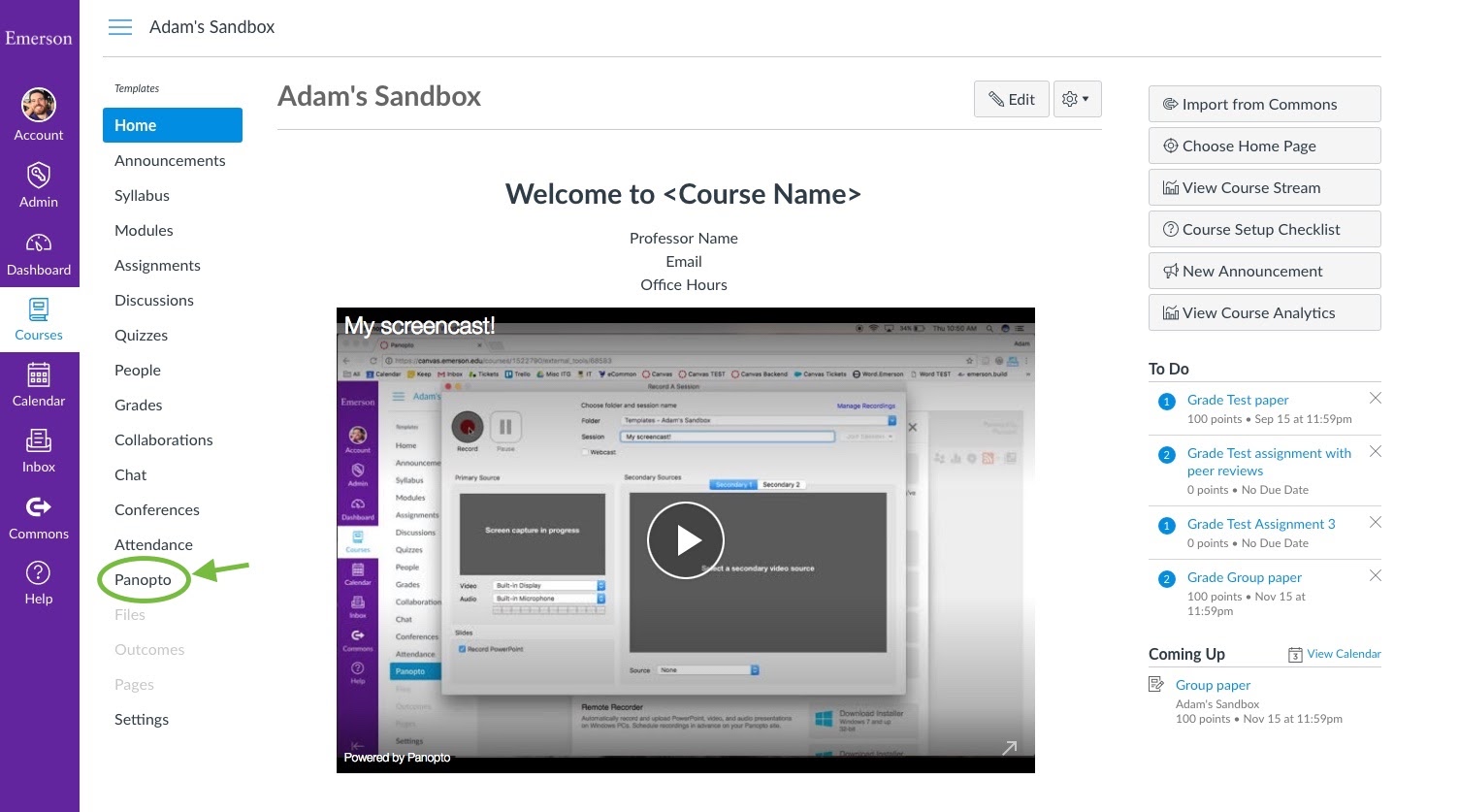 2. This takes you to your Panopto video library. Once there, select My Folder from the folder dropdown menu.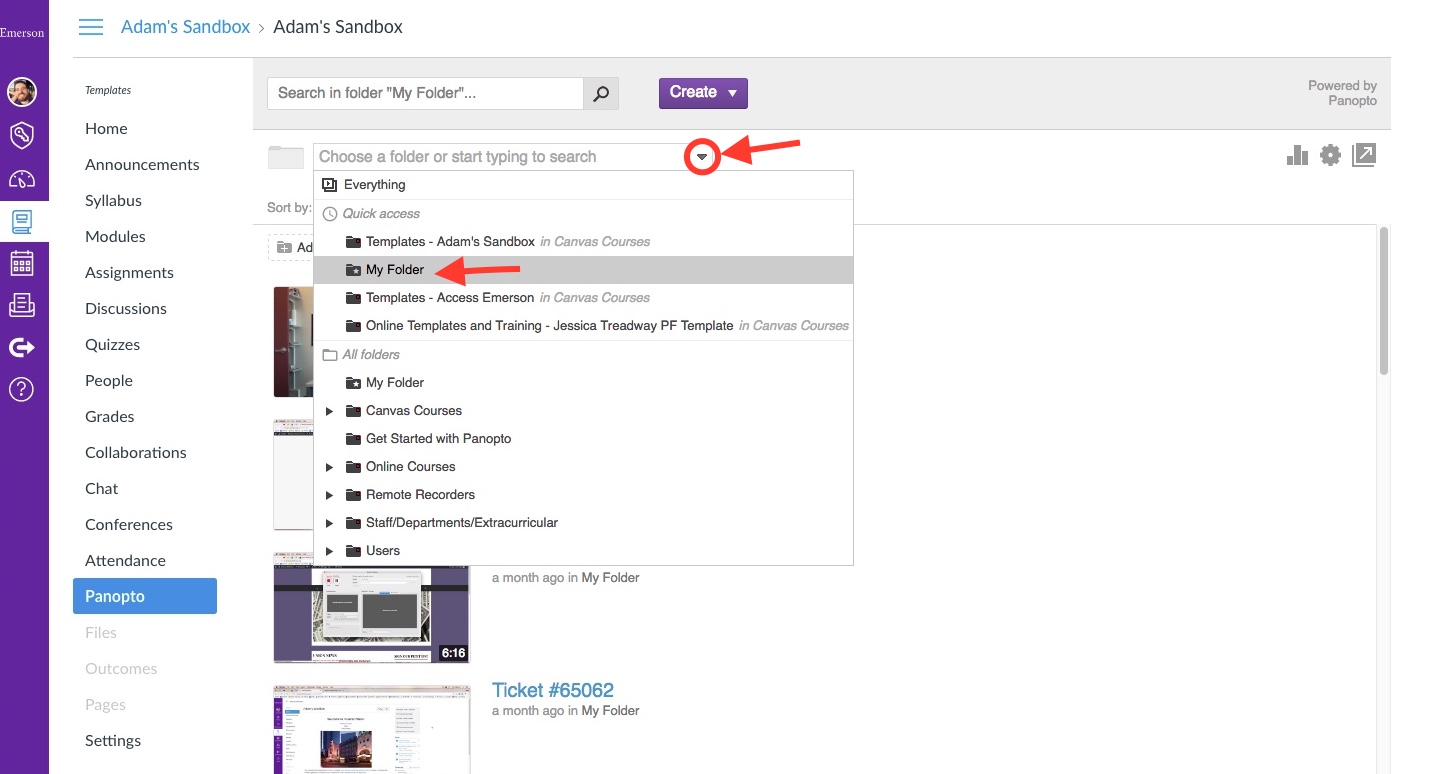 3. After you've selected My Folder, click the purple Create button. Then, click Upload media.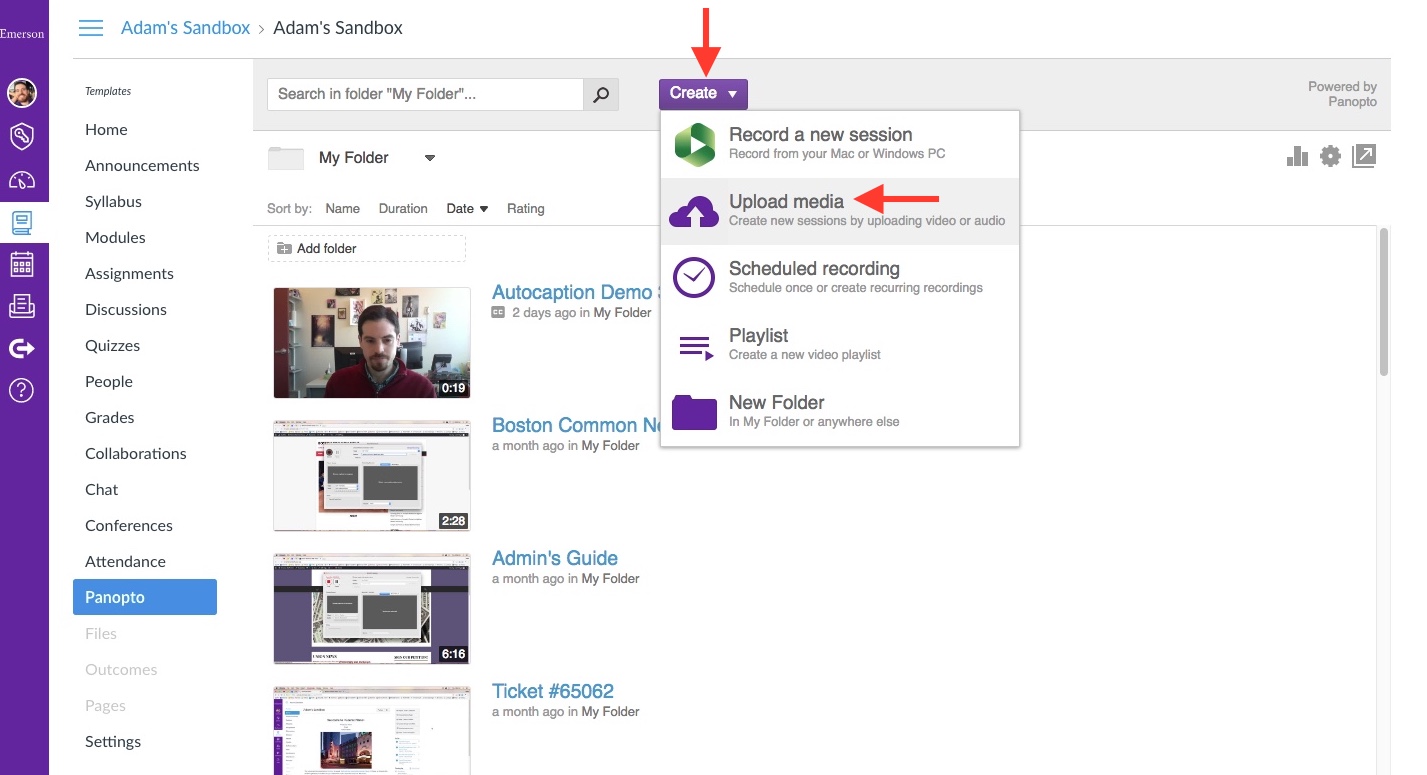 4. Select your video using the file browser, or drag-and-drop it onto the upload window. Your video will then appear in My Folder and take a few moments to process.
NOTE: Your video must be in H.264 format and compressed for streaming.
Next, to share with your instructor (and other specific people):
5. Sharing in Panopto works similarly to Google Drive; by default, videos in My Folder are only viewable by you. However, you can choose to share the video with anyone you'd like, including your instructor. To do so, hover your mouse over the video in My Folder (after it's finished uploading and processing), and click Share.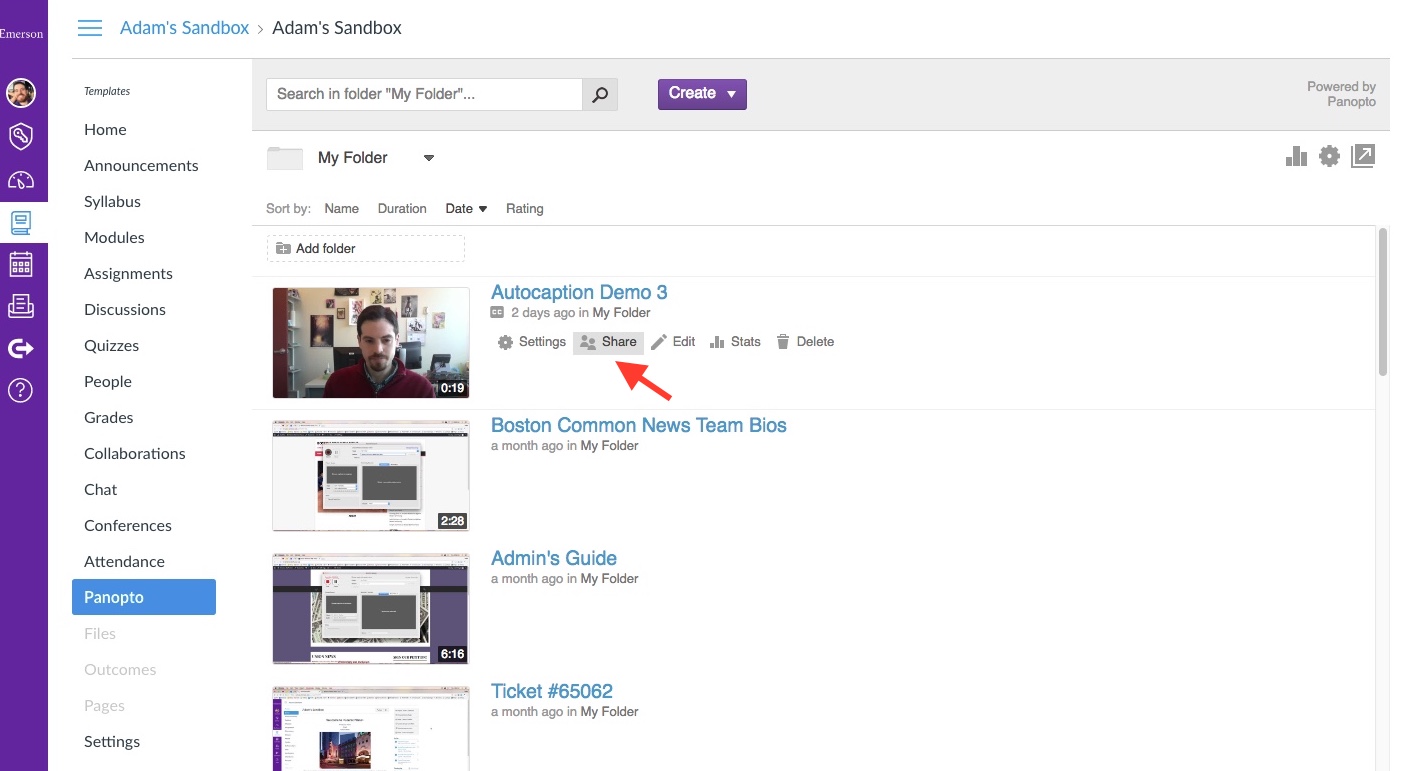 6. On the Share window that appears, click the large grey rectangle under "Who has access." On the dropdown menu, select Specific people (if it isn't already chosen).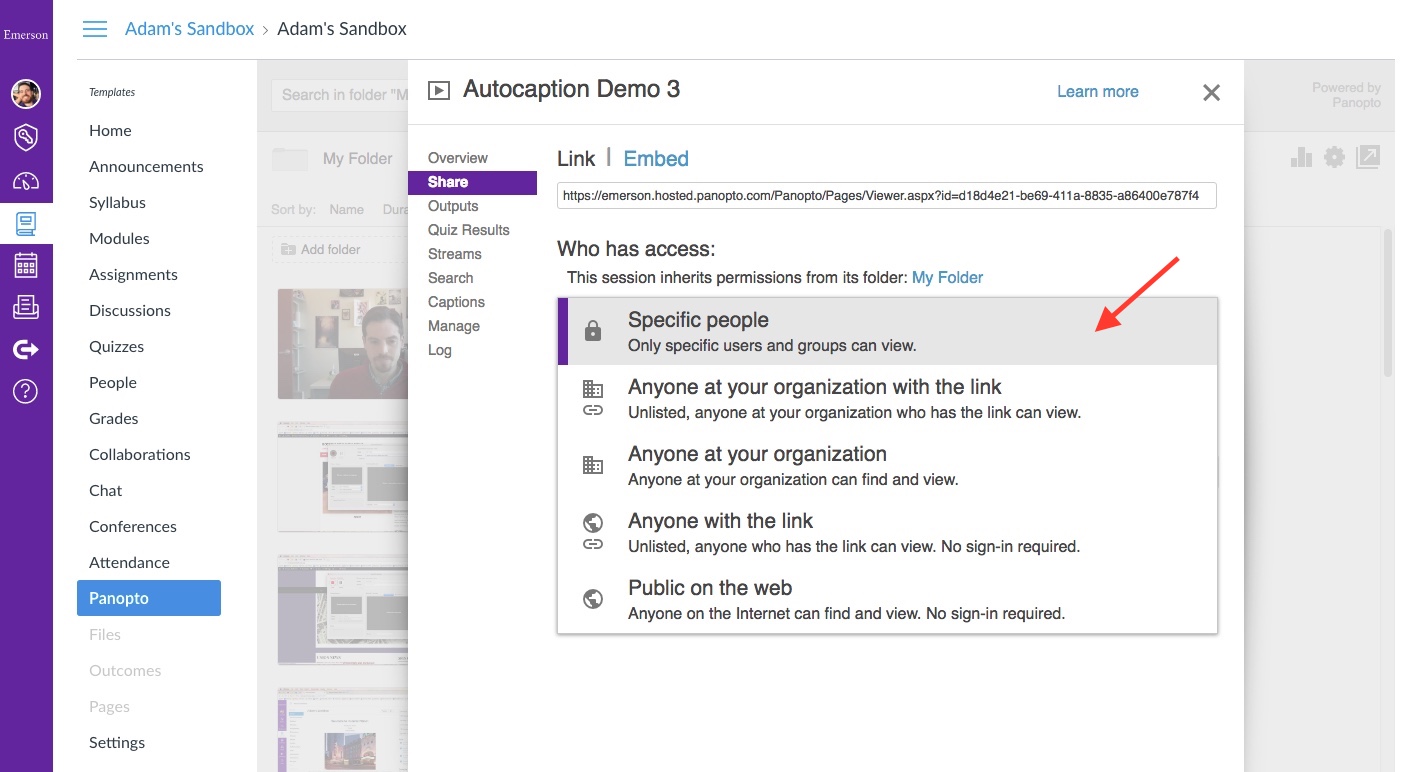 7. In the box under "Invite people," begin typing your instructor's name. The search will auto-populate a list of names. Click your instructor's name (it should have an Emerson email address to its right).
NOTE: If your instructor's name doesn't appear, DON'T enter it manually. Instead, ask your instructor to click the Panopto button in her Canvas course- this will create her account, and then you can share with her.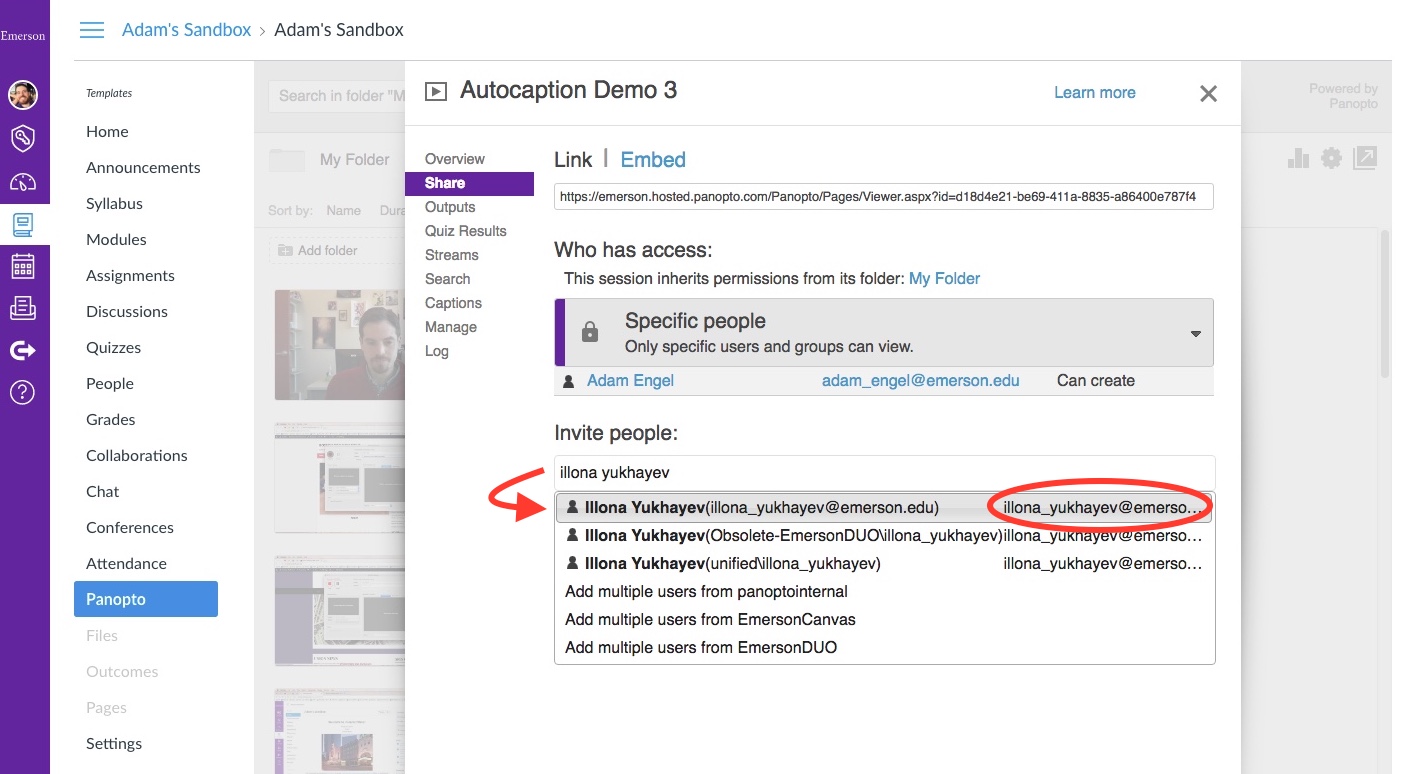 8. Choose whether or not to notify recipients via email, and include a message if you'd like. When you're ready, click the purple Send and save changes button. Your video is now shared.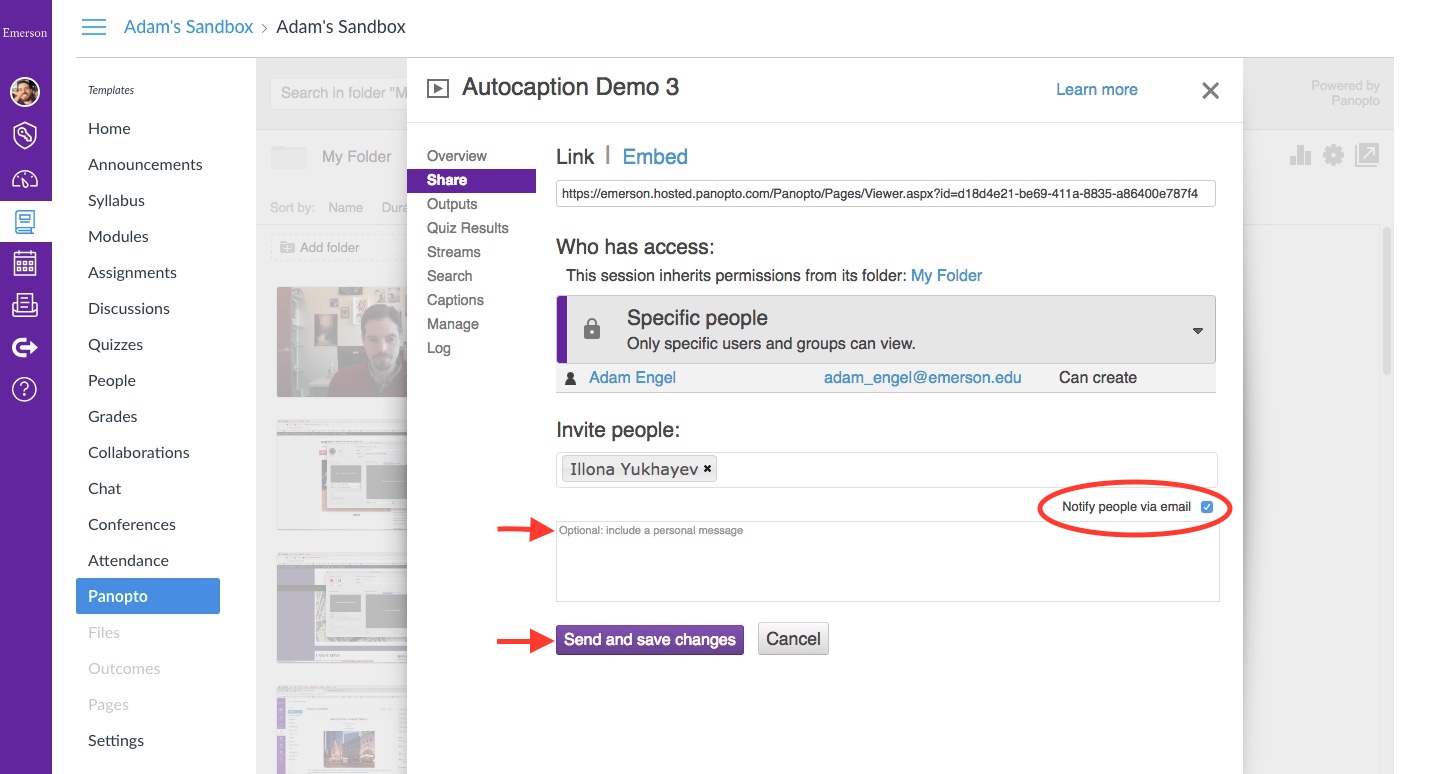 9. If your instructor has asked you to submit this video to a Canvas assignment: navigate to that assignment by clicking on Assignments in Canvas. Then click Submit Assignment at top right.
10. On the submission editing screen, under the Text Entry tab, you'll see a rich text editor (see screenshot below). Click the green Panopto button above the text box.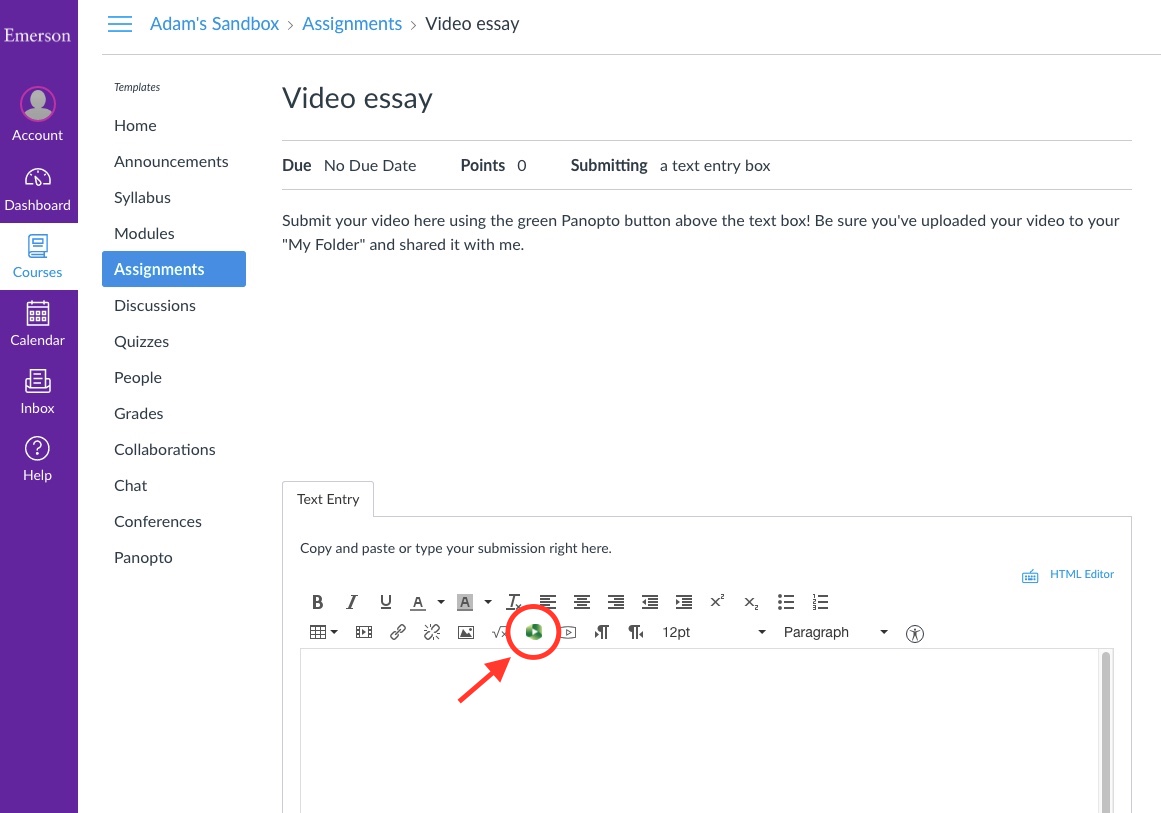 11. In the window that opens, select My Folder from the dropdown menu.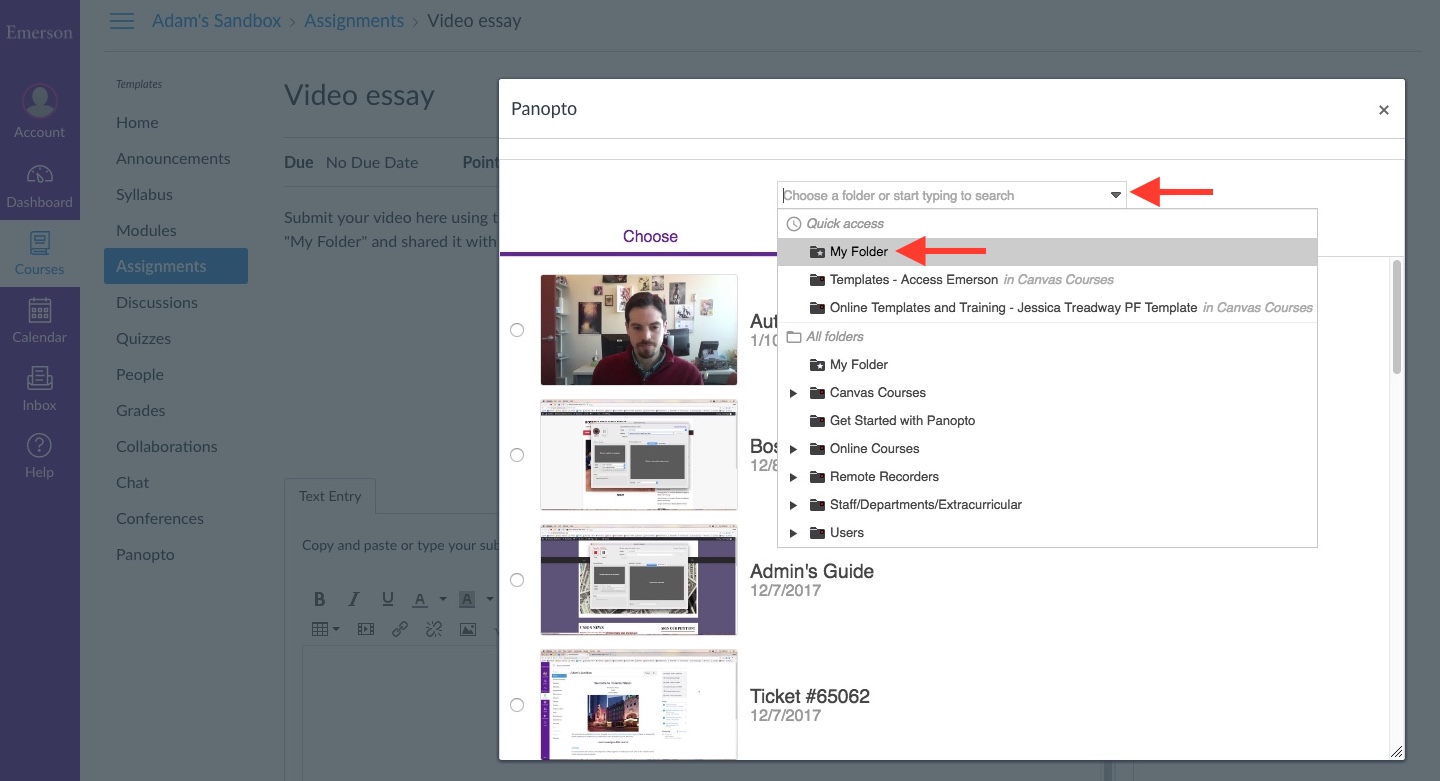 12. Under Choose, select the video you wish to embed, then click the purple Insert button at bottom right.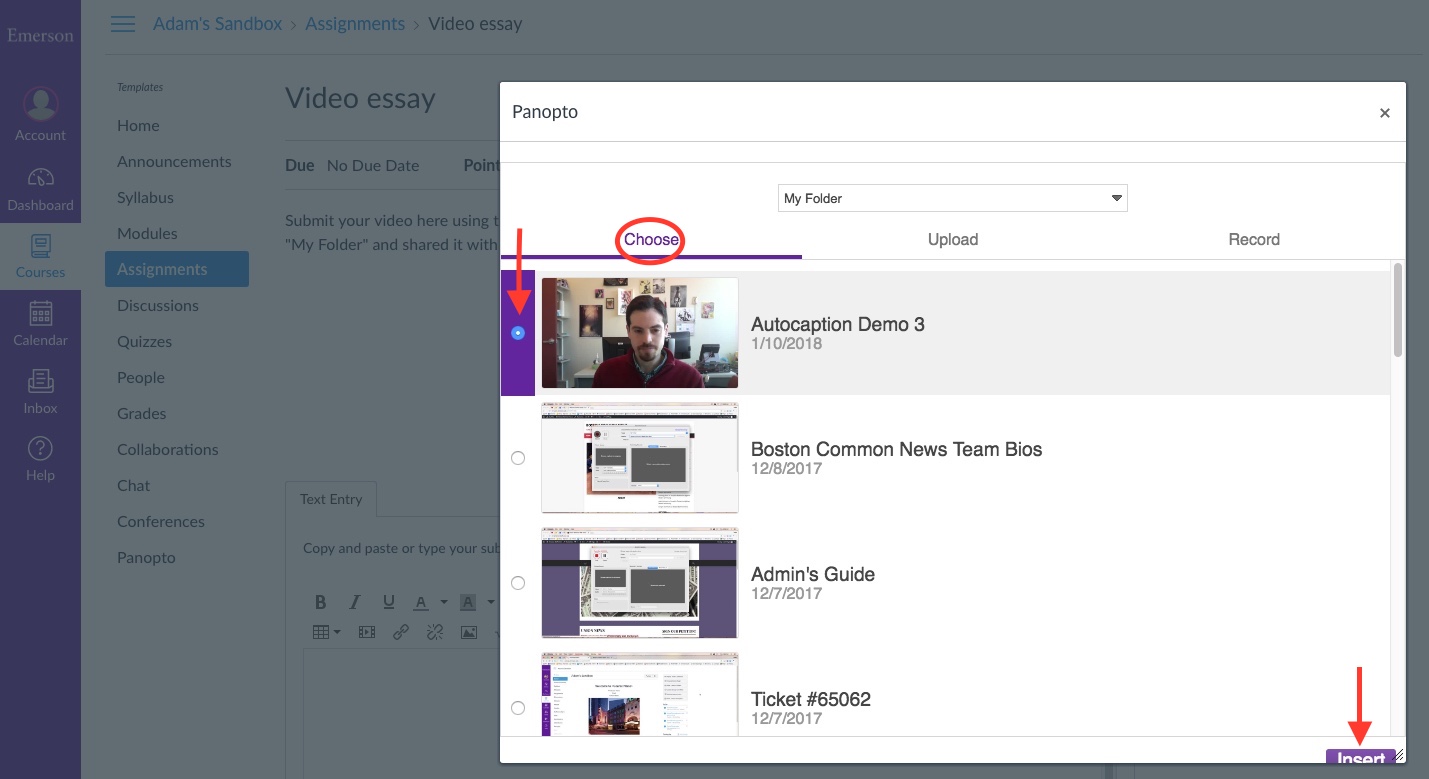 13. Your video will appear inside the text editor.
When you're ready to submit, click the blue Submit Assignment button under the editor to save your submission.
NOTE: You can only submit one item at a time. If you're submitting a word document in addition to a video, follow steps 1-9 above. Then, simply paste the link to your video (found at the top of the video's Sharing Settings) into the word document you're submitting.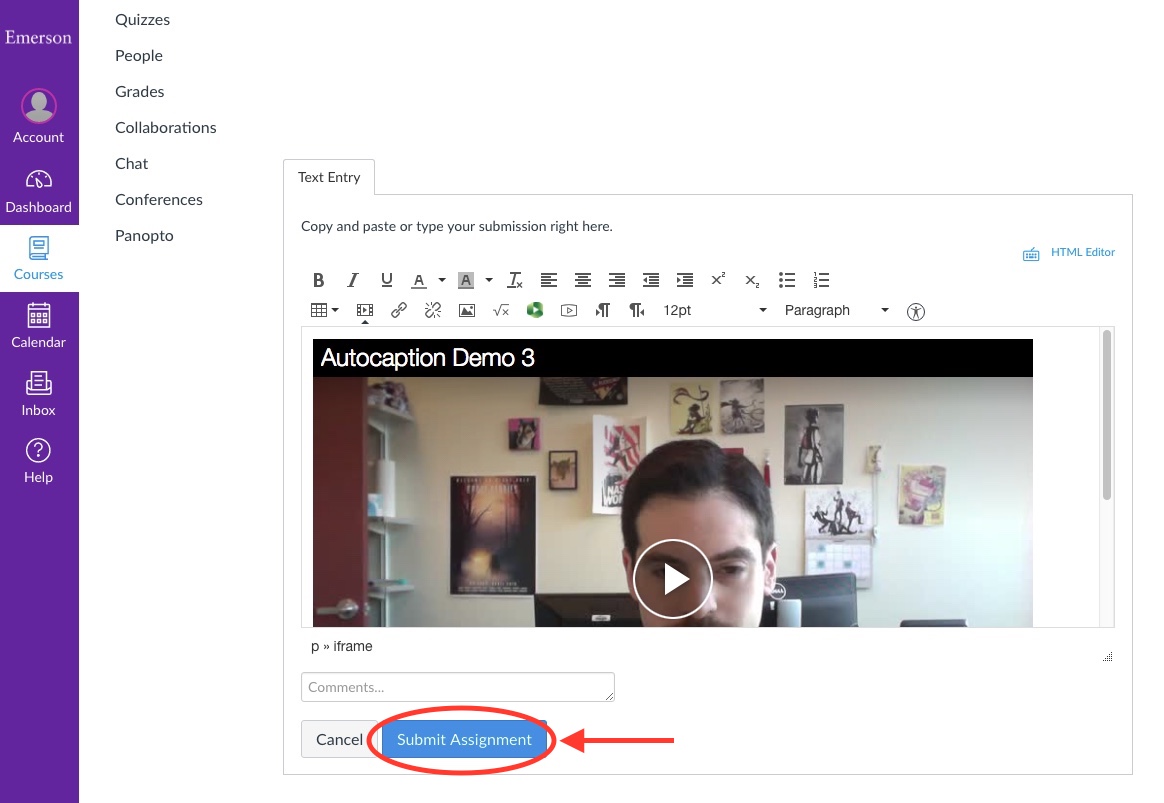 ---
If your submission is to be shared with the class:
To upload:
Follow steps 1-4 above with the following change: in step 2, instead of selecting My Folder, select whichever folder your instructor has asked you to use. For example, you may be asked to upload to the Course Folder (reached by simply clicking the Panopto button in the course menu) if your instructor has enabled uploads there.
If your instructor hasn't specified a folder, upload to My Folder and share your video with the class using the following instructions.
To share your video with the class:
Follow steps 5-8 above. Instead of searching for your instructor's name, search for your course number, including the section. Select the course that matches your current semester and section. You'll need to add both the course's Creators and Viewers (see the screenshot below). This will share your video with all of your classmates and your instructor.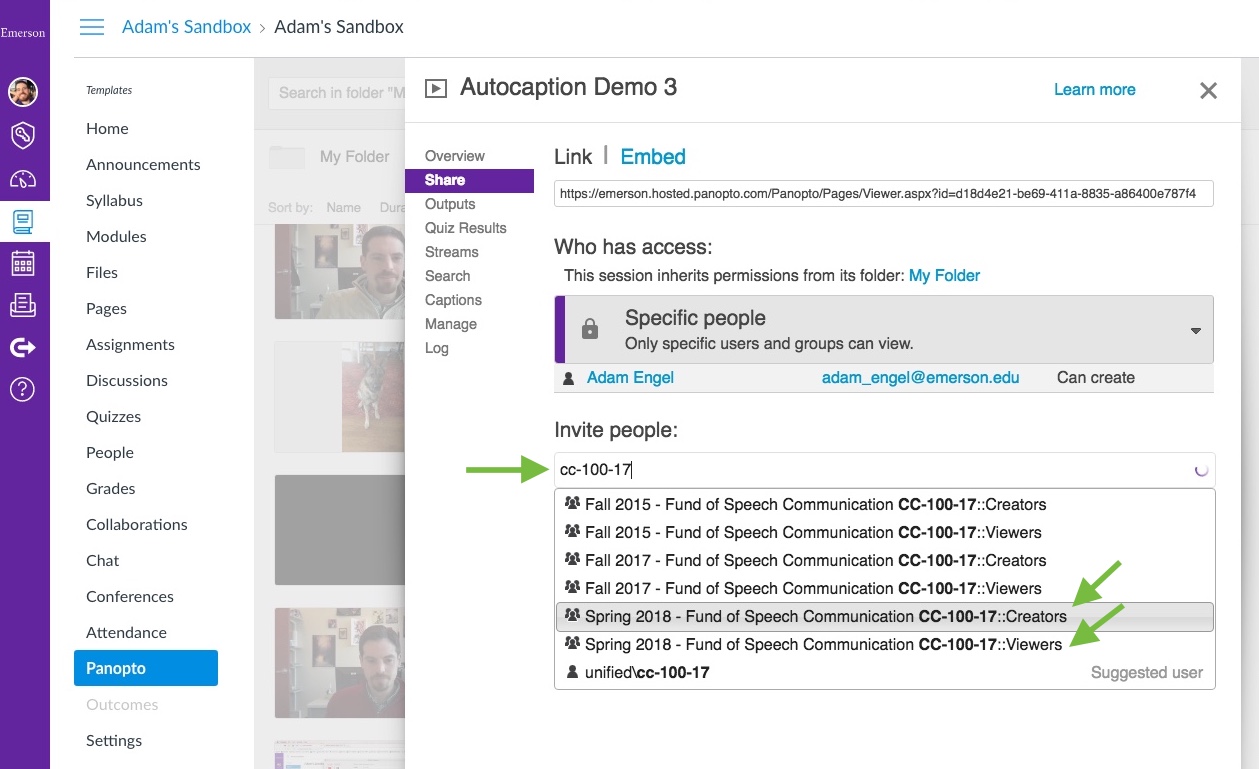 If you've been asked to embed the video in a Canvas assignment or discussion, follow steps 9-13 above.
If you need help with any of these steps, please contact [email protected].